Cultural Diplomacy in the Spotlight: "Cultural Diplomacy throughout the Commonwealth of Nations: International Cooperation across Six Continents"
10 - 12/07/2013 @ ICR Londra & House of Lords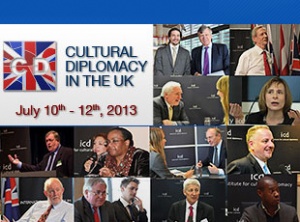 We are proud to host part of the International Symposium on Cultural Diplomacy - Cultural Diplomacy throughout the Commonwealth of Nations: International Cooperation across Six Continents, organised by the Institute for Cultural Diplomacy in Berlin.
The Symposium, part of a series of similar events taking place in Bucharest, Brussels, New York and Berlin, will bring together speakers from a diverse range of fields to debate the issues surrounding Great Britain, Europe and the Commonwealth, placing particular emphasis on the role that cultural diplomacy and international cultural cooperation can play among the organization's members in achieving greater cooperation and collaboration, thus promoting prosperity and stability for all.
Speakers during the Conference will include dignitaries, heads of state, ministers, politicians, diplomats, academics, authors, human rights activists, journalists, and artists.
Dorian Branea, director of ICR London and president of EUNIC London, will open the event with a keynote speech about the collective action of EU's cultural diplomacy institutions.
When: 10 -12 July 2013
Where: Romanian Cultural Institute London (10 July & 12 July-morning), House of Lords (11 July)
More details and application form at www.culturaldiplomacy.org