Cultural Diplomacy In A Changing World: How To Respond To The Current Challenges
28/06/2012 @ ICR London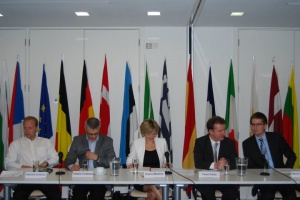 The EUNIC Cultural Diplomacy Conference is an annual event organized by the London cluster of the European Network of National Institutes for Culture (EUNIC) with the support of the European Commission Representation in the UK, whose 2012 edition will be hosted by the Romanian Cultural Institute in London. The event, which will be opened by Mrs Delphine Borione Pratesi, the president of EUNIC global, is first and foremost a professional inter pares forum that gathers top cultural diplomacy practitioners and academics with the primary ambition to examine the virtues of cultural diplomacy against the most pressing issues of today.
Cultural Diplomacy in a Changing World: How to Respond to the Current Challenges draws on the experience and achievements brought about by two previous EUNIC London's Cultural Diplomacy Seminars where noted cultural diplomats, cultural managers, artists, experts, and academics, coming from the EU and beyond, reflected on key aspects of cultural diplomacy and set forth creative responses to its challenges.
The participants, top international cultural cooperation experts and practitioners, will explore and discuss viable and replicable cultural diplomacy approaches to the burning topics of international affairs, from the complicated transitions set in motion by the Arab Spring and the tribulations of the global financial crisis to the rise in prominence of the BRIC countries.
The conference exchanges will take place in the form of four plenary sessions moderated by reputed journalist Jonathan Fryer. The conference's exchanges will later be made available on EUNIC's website www.eunic-online.eu.
By invitation only.