Cancelled: 'Cruel – The Rock Opera' premiers at Troxy, one of London's most iconic venues
29/03/2020 @ Troxy, 490 Commercial Rd, London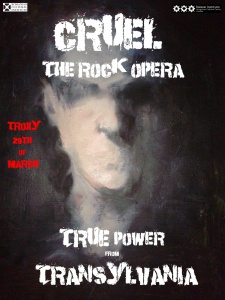 We are delighted to support the UK premiere of 'Cruel – The Rock Opera', a performance created by musician Tibor Molnar and combining a church organ with a full rock band, a string quartet and four of Transylvania's top rock vocalists.

'Cruel' is a rock opera which presents four characters who must find their way through a moral maze of love, lust, judgement and tragedy to find their life's destiny. Appearing at London's stunning art-deco Troxy Theatre for one night only, audiences can expect a journey through Heaven and Earth by way of Mozart and AC/DC – Cruel has big themes and even bigger vibes.
Employing Troxy's Wurlitzer Organ, 'Cruel' combines rock and classical music to really deliver a 'rock opera', with the lead role taken by Andy Ghost, the lead vocalist of one of Romania's biggest rock bands, Altar. With classical elements which take inspiration from composers such as Brahms, Schubert and Mozart and a rock band covering a range of Dream Theater-esque sonics through to AC/DC and even heavier sounds, 'Cruel' is a fully immersive experience with live projections, lighting effects and more than a few surprises.
Created by Tibor Molnar
Directed by Cezar Ghioca
Soloists: Raluca Stoica - soprano, Andy Ghost - baritone, Alexandru Arnautu - tenor, Sara Hajdu - alto, Chordis string quartet, Lehel Lorinczi - organist
Tibor Molnár started playing the violin when he was five years old and graduated from the Târgu Mureș School of Arts in 1994, when he co-founded the Tiberius Quartet. He has won prizes at numerous violin competitions and has performed as a soloist nine times with the Târgu Mureș Philharmonic Orchestra. For three seasons, he participated in the Hungarian master class Jeunnes Musicales, under the guidance of Eszter Perenyi. He graduated from the Music Academy in Cluj in 1999.
When: Sunday 29 March 2020, Doors 19:00
Where: Troxy, 490 Commercial Rd, London, E1 0HX
Tickets: £11 (Ground floor), £35.20 (Lower Ground Floor) from https://troxy.co.uk
Age Restriction: 14+