Cristian Mungiu's 'Graduation' at Dublin International Film Festival
26/02/2017 @ Dublin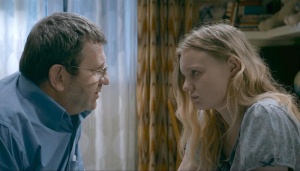 Over the past few years, the biggest film festival in Ireland – and our oldest partner across the Irish Sea - has celebrated Romanian cinema & film-makers through numerous projections, Q&A sessions and special events. At this year's edition, the Irish cinephiles will discover Cristian Mungiu's praiseful "Graduation", the Palme d'Or director's latest exploration of middle-class anxieties.
"Graduation" stars Romanian stage and screen actor Adrian Titieni as Dr Romeo Aldea who raised his daughter Eliza with the idea that once she turns 18, she will leave to study abroad. Their plan seems to succeed as Eliza has won a scholarship to study psychology in the UK. She just has to pass her graduation exams, but on the day before her first written exam, Eliza is assaulted and this could threaten her entire future. Her father has to make a decision that contradicts all his ethical beliefs.
Established in 2003, The Dublin International Film Festival (DIFF) has fast become Ireland's premier feature film festival and takes place in Ireland's capital city over the course of eleven days and nights each spring.
The screening is also supported by the Embassy of Romania in Dublin.
When: 26 February 2017. 4:oo PM.
Where: Cineworld 9, Dublin.