Cork Film Festival in Ireland focuses on Romanian Cinema
07 - 13/11/2011 @ Cork, Ireland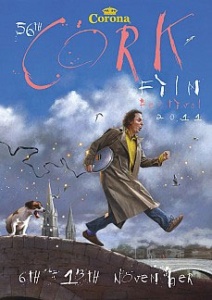 Between 7 - 13 November 2011, the audience with an interest in Romanian cinema can check on Corona Cork Film festival, one of Ireland's premier cultural events established in 1956. The festival has enjoyed a steady growth in scale, in numbers of admissions and guests, in reputation, or media coverage, and has developed an ever-increasing audience of general public, film lovers and film-makers.
This year, the festival is 'delighted to announce a very special focus on the amazing short films of Romania. Culturally, Romania has come to the fore of the film world in recent years, with such great directors as Adrian Sitaru, Radu Muntean and Cristian Mungiu.' (www.corkfilmfest.org)
Cork Film Festival presents not only three programmes of Romanian short films selected by film critic Andrei Gorzo , but also a gala screening of Adrian Sitaru's most recent film, Best Intentions, Dieter Auner's Off the Beaten Track and Alex Galmeanu's Subjective Portraits exhibition.
Click here for the full Romanian programme.
FOCUS ON ROMANIA
Timetable
Monday 7th
2.00pm | Triskel | Romanian Short Films 1
8.30pm | Opera House | Gala | Best Intentions
Tuesday 8th
2.00pm | Triskel | Romanian Short Films 2
Wednesday 9th
2.00pm | Triskel | Romanian Short Films 3
5.00pm | Gate Cinema | Off The Beaten Track
Subjective Portraits: Photography Exhibition
by Alex Galmeanu | Triskel | Nov 6 – 13
Triskel Arts Centre in Cork hosts the Subjective Portraits exhibition by one of the most celebrated young photographers, Alex Galmeanu. An artist with a winning combination of superb vision, Alex put together portraits of actors and directors, for a unified vision of the Romanian frame-stage.
The Romanian film critic Andrei Gorzo is one of the members of jury and also the speak-man for the Romanian film movement in the festival.