Contraste Trio opens the 2011/2012 Enescu Concerts Series
06/10/2011 @ ICR London, 1 Belgrave Square, Londra, SW1X8PH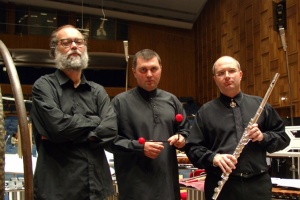 For the first time in London, Contraste Trio opens the 2011/2012 season of the Enescu Concerts Series with an original and outstanding programme. The trio is a unique combination of three different instruments: flute, piano and percussion. Ion Bogdan Stefanescu, Sorin Petrescu and Doru Roman will offer the audience a display of the best classical contemporary music written in Romania in the 20th and 21st centuries.
Programme:
George Enescu: Three scenes from Oedipe
Constantin Silvestri: Baccanals
Dinu Lipatti: Introduction and Allegro
Paul Constantinescu: Brâul
Tiberiu Brediceanu: Three Romanian Dances
Adrian Enescu: Laudamus Te
Violeta Dinescu: Tabu
Aurel Stroe: Three pastoral pieces
Dan Dediu: Cartoon Variations on a Theme by Mozart
Contraste Trio was founded in 1986 and has been performing on prestigious stages in Romania, Germany, Holland, Luxemburg, Switzerland, France, Denmark, Austria, China, Sweden and Poland. All the three members of Contraste have a solo career, but, when they reunite, their main purpose is to promote Romanian contemporary music. Most of the Trio's repertoire is comprised of great scores by Romanian composers Anatol Vieru, Aurel Stroe, Myriam Marbé, Stefan Niculescu and Nicolae Brandus. Contraste Trio is a permanent guest at the Bucharest International Contemporary Music Festival, which takes place every year in May. It also has played in many international festivals like East – Vest Amsterdam; Contemporary Music Festival – Huddersfield; Nueva Musica – Bogota; Musicarama – Hong- Kong; Piano Plus Festival – Bamberg and Zeit fur Neue Musik – Bayreuth.
The Enescu Concerts Series, jointly organized by the Romanian Cultural Institute in London and the Enescu Society, was established in 2007 under the Royal Patronage of HRH Princess Margarita of Romania. The concerts take place in the Institute's chamber music hall every first Thursday of each month from February to June (July) and from October to December. The Series have attracted a wide array of outstanding musicians and ensembles who have managed to give some of the most memorable Enescu performances ever.
Since September 2011, the Romanian Cultural Institute awards every year the Enescu Scholarship to outstanding students at the Royal Academy of Music and Guildhall School of Music and Drama.
When: Thu, 6 October 2011, 7pm;
Where: Romanian Cultural Institute, London
Admission is free but seats are limited. Early booking is well recommended.
Please reserve your seats at T: 020 7752 0134, E: office@icr-london.co.uk.
Latecomers will be able to go to their seats in the interval.