The Contest by Dan Piţa @ Romanian Cinemateque
24/11/2011 @ 1 Belgrave Square, SW1X 8PH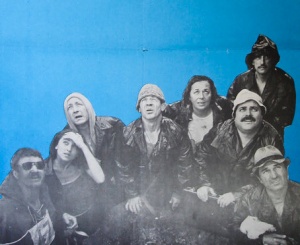 We invite you to the screening of Dan Piţa's iconic film The Contest, which tells the story of an outdoor competition that gradually turns into a perilous expedition through the labyrinths of conscience.
Introduced by film journalist Edward Lawrenson
Leading Romanian director Dan Piţa turns an orientation contest in a forest into an ordeal of psychological suspense and, ultimately, an ironic allegory. What starts out as a simple expedition becomes complicated when the group hear a mysterious cry for help and decide to ignore it rather than veer off course. In the surreal atmosphere of a contest, Dan Piţa exposes the myth of collaborative teamwork in the everyday conduct of sociopolitical institutions.
"We are faced with humanity sick with indifference… Superbly photographed by newcomer Vlad Paunescu, and with a fine group of actors, Contest is undoubtedly one of the most profound Romanian films ever made." International Film Guide
Feature film | Romania | 1982 | 104 min | color | dir. Dan Piţa | cast: Claudiu Bleonţ, Ştefan Iordache, Gheorghe Dinică, Marin Moraru, Valentin Uritescu, Oana Pellea, Marian Râlea. In Romanian with English subtitles.
Romanian Cinematheque is a partnership with the National Centre for Cinematography in Romania (CNC)
When: Thu 24 November 2011, 7pm;
Where: Romanian Cultural Institute London.
Free entrance. To attend please email office@icr-london.co.uk or call 0207 752 0134. Early booking recommended.