Contemporary Romanian Poets: Bogdan Ghiu
23/06/2011 @ ICR Londra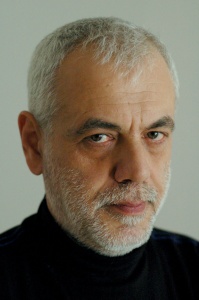 Special guest: David Harsent
Thursday 23 June 2011, 7pm
Listen to live poetry and join in the conversation with award-winning poet, translator, cultural critic and theorist Bogdan Ghiu, the third guest of the Contemporary Romanian Poets series organised in association with Poet in the City. Taking place at the Romanian Cultural Institute until November, this year's series includes six exciting poetry events exploring contemporary Romanian culture through the eyes of its most accomplished poets: Denisa Comanescu, Claudiu Komartin, Bogdan Ghiu, Miruna Vlada, Andrei Bodiu and Vasile Garnet.
Bogdan Ghiu (Bucharest, 1958) is one of the best known poets of the last decades, being at the same time a very active and valued theorist (literature, media, art, architecture) and translator (French Theory). Defined at first as textualist and metapoet, he refuses the postmodern relaxation and blocking, seeking for a post-literary expansion of poetry with the performative arts and the geopolitical reflection. He has received the Award of the Romanian Writers' Union for his volumes The One Meter Side Poem (1996) and The Art of Consuming (1996). His most recent poem book is (The Cardboard Poem) Traces of Destruction on Mars (2006), and his most recent essays are I, the Artist. Life after Survival. Bar Code for Art's Monstrous Future (2008) and Telepithecapitalism. Media Middle Ages 2005-2009 (2009). At the Venice Biennale 2011, Romania will be represented by an exhibition based on his concept, Performing History.
Bogdan Ghiu will be joined by special guest David Harsent, award-winning British poet. He has published ten collections of poetry. The most recent, Night - published in January 2011 - is Poetry Book Society Choice for Spring 2011, and shortlisted for the T.S. Eliot Prize. Legion (2005), won the 2005 Forward Poetry Prize (Best Poetry Collection of the Year) and was shortlisted for the 2005 T. S. Eliot Prize and the 2005 Whitbread Poetry Award. His work in music theatre has involved collaborations with a number of composers, but most often with Harrison Birtwistle, and has been performed at the Royal Opera House, Carnegie Hall, the Proms and on Channel 4 TV.
Poetry in Romanian will be read and performed in English translation by actress Amy Humphreys.
Poet in the City is a London-based charity committed to organizing live events aimed at attracting new audiences to poetry and making new connections in order to support poetry education. The charity holds about twenty five major poetry events every year in and around central London.
When: Thursday 23 June, 7pm;
Where: Romanian Cultural Institute, 1 Belgrave Square, London SW1X 8PH.
The event is free, but booking is essential at office@icr-london.co.uk or 020 7752 0134.