Constable vs Grigorescu : A Walk Off.
18/07/2022 @ Romanian Cultural Institute London, 1 Belgrave Square, SW1X 8PH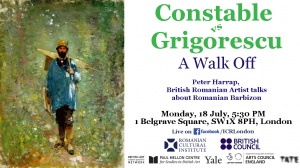 A British Art Network talk by Peter Harrap, British Romanian artist and curator.
Hosted by the Romanian Cultural Institute and supported by the British Council.
John Constable (1776-1837) and Nicolae Grigorescu (1838-1907) are two great painters from opposite ends of Europe. Their stories will be brought together by artist Peter Harrap, who interweaves art discoveries encompassing 250 years of walking, painting and poetry in European Art. He will look at the paintings of these two great artists alongside the landscape topography as a primary source. Harrap notes the locations of the paintings, and sequences them through landmarks, surveys, maps, prints, journals, letters, old photographs, newspapers, directories, architecture and deeds.All these systems provide different conceptual frameworks for establishing the artistic processes of walking and painting. Harrap sees the the paintings as 'embodied objects' set within the landscape which gives a sense of place and methods of making. Harrap's method opens up the space for re-interpretation and active community participation.
John Constable was an English painter born in Suffolk, and as the son of a local miller, it was planned that Constable would take over the family businesses. He chose instead to become a painter. John Constable studied the landscape locally in East Bergholt and did not like to go abroad. Constable was pugnacious, short tempered and rude to French artists and Continental art dealers. It was not unusual for Constable to hide in another room when foreign artists came to visit. He walked off when Delacroix arrived for a studio visit, leaving his assistant Johnny Dunthorne to show the enthusiastic young French painter around. Despite Constable's quarrelsome attitude to continental artists, he won the gold medal at the Paris Salon of 1824 for his painting 'The Haywain', and a new generation of French painters greatly admired his work. Constable inspired artists like Millet, Corot, Rousseau, Huet, Daubigny, and Monet to go back to nature to study it as a primary source in painting. These French artists set up a 'school of painting', they congregated in the Forests of Fontainebleau, just below the village of Barbizon, on the outskirts of Paris.Constable was also a prolific letter writer and he often noted with irony that his paintings were more appreciated on the continent than in England.
The collection of Constable's little studies that now sit in the V&A, RA and Tate collection, were given to the museums by Isobel Constable in 1888 and only seen by a handful of close friends, family. It is therefore surprising to have a similar scale and body of work from Nicolae Grigorescu at the MNAR ( National Gallery, Romania.) Peter Harrap proposes that these Grigorescu studies mirror Constable's systematic painting methods of recording local topographies. It is not for nothing that art historians regularly point out that none of Constable's small studies were exhibited until after 1888, and prior to that, only the larger finished works were seen by the public.
Nicolae Grigorescu was one of the 180 artists that were inspired to seek out this return to nature in the Forest of Fontainebleau at Barbizon. Grigorescu was born in Pitaru, Wallachia, southern Romania and after a short time as a religious painter of chapels, Grigorescu came to the attention of the Romanian Ministry of Foreign Affairs. In 1861 Mihai Kogalniceanu (later Prime Minister) provided Grigorescu with a grant to explore a new artistic practices and so Grigorescu first travelled to Paris and then to Barbizon. Grigorescu's small painted studies were made whilst staying at the Auberge Ganne guest house.On his walks, Grigorescu came to a fresh and more direct handling of paint and agricultural subject matter which was subsequently used portray the essence and identity of the newly formed Romanian nation.
Keeping in mind the fact that Constable's small studies were not displayed for exhibition until after 1888, Harrap leaves open to question the true extent of John Constable's influence of continental European painting. From 1862 onwards, Grigorescu was making his similar small studies in a method approximating Constable, but he does this without ever having seen those Constable studies . Peter Harrap will address this conundrum and propose ideas of systematic topographic sequencing as the artists moved through the landscape. How those ideas about pictorial mapping came to be established remains a contentious view and a deep mystery at the heart of European painting.
Peter Harrap is a British Romanian Artist and Curator. He lives and works in John Constable's studio in Brighton. He is a researcher at UCL SSEES and a PhD(c) at Iasi George Enescu National University of the Arts, Romania.
When: Monday, 18 July at 5:30 PM
Where: Romanian Cultural Institute, 1 Belgrave Square, London SW1 8PH
Entrance is free but we kindly request you to book your ticket on Eventbrite. Please note that seating is unreserved.