Communism, Humour and Urban Myths: A Screening of Tales from the Golden Age
22/03/2012 @ 1 Belgrave Square, SW1X 8PH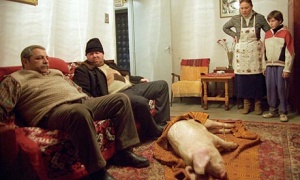 In his first film after winning the Palm D'Or at Cannes for 4 Months, 3 Weeks & 2 Days, Cristian Mungiu wrote the script for a quirky and engaging series of Tales from the Golden Age, screened as part of the Un Certain Regard section at the 2009 Cannes Film Festival. The title refers to the alleged "Golden Age" (coined by Communist propaganda) of the last fifteen years of Ceauşescu's regime, in an attempt to overcome trauma by way of humour.
The screening will be followed by a Skype Q&A session with one of the five directors, Ioana Uricaru, and film journalist Edward Lawrenson
Trying to unravel and rewind the twisted logic of life in a Communist dictatorship, the film focuses on portraying the most popular urban myths of the period: The Legend of the Official Visit, The Legend of the Party Photographer, The Legend of the Chicken Driver, The Legend of the Greedy Policeman, The Legend of the Air Sellers. Delightfully poignant, grotesque and surprising, the five tales offer a surreal portrait of Romanian life in the 1980s, where undertones of fear, corruption and imprisonment were never far away from the humour and ludic spirit which kept people alive.
"Anyone impelled by the upcoming 20th anniversary of the toppling of the Berlin Wall to dig deeper into Europe's recent past; anyone in search of a genuinely original and very funny film: Tales from the Golden Age is just the ticket." The Telegraph
Romania | 2009 | 155 min | directors: Constantin Popescu Jr., Răzvan Mărculescu, Ioana Uricaru, Hanno Hofer, Cristian Mungiu | screenplay: Cristian Mungiu | cast: Călin Chirilă, Teodor Corban, Radu Iacoban, Vlad Ivanov, Tania Popa, Ion Săpdaru. In Romanian, with English subtitles.

The Romanian Cinematheque Project is realized in partnership with the National Centre for Cinematography in Romania (CNC). The screening of the film Tales from the Golden Age was organised with support from Trinity Film. You can buy the DVD of the film here.

When: 22 March 2012, 7 pm;
Where: Romanian Cultural Institute, London.
Free entrance. To attend please email office@icr-london.co.uk or call 0207 752 0134. Early booking recommended.