Classical guitar player Mihai Cinca in RCI London's Musical Summer Series
06/08/2020 @ Romanian Cultural Institute in London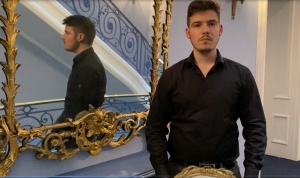 RCI London continues its musical journey through Romania's and Britain's most celebrated compositional landmarks with a unique recital by classical guitar player Mihai Cinca.
The concert was recorded in 1 Belgrave Square on 2 August 2020 and will be presented online, via our Facebook and YouTube channels.
Programme:

Lagrima – Francisco Tarrega (1852 – 1909)
Garotin y Soleares – Joaquin Turina (1882 – 1949)
Adelita – Francisco Tarrega (1852 – 1909)
Fancy – John Dowland (1563 – 1626)
Recuerdos de la Alhambra – Francisco Tarrega (1852 – 1909)
Balada – Ciprian Porumbescu (1853 – 1883)
Classical guitar player Mihai Cinca is a solo and chamber guitarist graduate from the Royal College of Music. He has been studying with Gary Ryan, Carlos Bonell and Chris Stell. He has a record of national and international prizes, such as 1st prize at the International Competition in Vrsac, Serbia, 2nd Prize National Competition in Romania, 1st Prize International Competition "Sigismund Toduta". He also performed at several festivals, such as the International Transylvania Guitar Festival and the International Plucked Strings Festival in Romania. He took part in the City Hall awards, charity concerts both in Romania and the UK, performing as a part of the Spanish Exhibition at the National Gallery and Royal Opera House events.
When: Thursday 6 August 2020 at 19.00