Classic Guitar Concert Performed by the Romanian Musician Laurențiu Topală
27/07/2021 @ online | Website, Facebook page and YouTube channel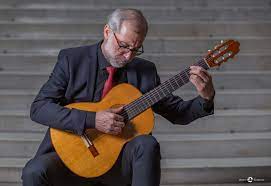 RCI London brings to the fore the amazing classic guitar player Laurențiu Topală with a mesmerizing combination of original compositions and works by Luis de Narváez, Dan Andrei Aldea, Antonio Lauro, Jorge Cardoso and Leo Brouwer. The recital, showcasing the musician's disciplined pathos, talent and incredible technique, has been recorded in Bucharest on 24 July and will be presented on our digital channels on 27 July 2021, at 19.00.
Programme:
Luis de Narváez - Guardame las Vacas
Anonymous (from the 16th century) - Suite in D (Gavotte 1, Rondeau, Gavotte 2)
Dan Andrei Aldea - Om bun (Temă cu variațiuni) / A Kind Man (Theme with variations)
Leo Brouwer - Un Dia de Noviembre
Jorge Cardoso - Milonga
Antonio Lauro - Venezuelan Waltz
Laurențiu Topală - Vals 1, Vals 2 & Lumea în armonie / Valse 1, Valse 2 & The World in Harmony
Anonymous - Romanță / Romance Song
Laurențiu Topală (b. 1968) is a graduate of "G. Musicescu" Music Academy of Chișinau, Republic of Moldova, class of musical interpretation. Since 1995, Laurențiu Topală has performed as a concert guitar soloist, recorder in chamber ensembles such as "Diatonic", "Pro Musica" and "Alegretto". 25 years after graduating the Conservatory, he has given a special recital hosted by the Bucharest Municipality Museum and over the time, several extraordinary concerts in Romania and abroad. His teaching activity has been honoured by the prizes won by his students in the guitar class of the National College of Music "O. Băncilă", Iași, România, at several national and international guitar competitions. Laurențiu Topală is also a composer, as well as a music producer (most recently for Trinitas TV, the official broadcaster of the 24th edition of the prestigious George Enescu International Festival).
When: 27 July 2021, 19.00
Where: RCI London's online channels: Facebook page, YouTube channel & website