Clara and The Free Time
28/05/2022 @ Romanian Cultural Institute, 1 Belgrave Square London SW1X 8PH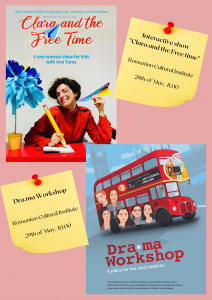 Every day, Clara the Clerk organizes extracurricular activities for children. But today, at The Office no. 1 for Keeping Spare Time Fun, everything seems topsy-turvy. Driven mad by her tasks and by the Voice that gives her no time to rest, Clara receives a phone call that reminds her she was once a child too. Her mind begins to wander and her imagination takes over. An interactive show with a bit of clowning and a sprinkle of poetry.
The show is written and performed by Ana Turos and produced by the Romanian theatre Unteatru de copii and awarded best children's show at Bucharest Fringe Festival
The show starts at 11 o'clock.
Genre: Family Friendly, Improv, Theatre
Artist/Production Company: Ana Turos / unteatru de copii
Country of Origin: Romania
Age Guidance: Aimed at children (6 - 12 years)
When:
Saturday, 28 May at 11AM
Where: Romanian Cultural Institute, 1 Belgrave Square, London SW1 8PH
Entrance is free but we kindly request you to book your ticket on Eventbrite. Please note that seating is unreserved.