'Cinema, Mon Amour' Opens the 2017 Programme of the Romanian Cinematheque
29/03/2017 @ RCI London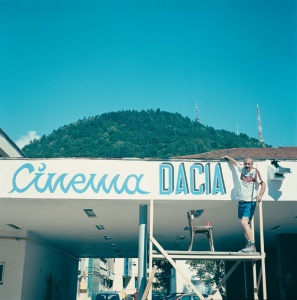 'Cinema, Mon Amour', one of the recent outstanding Romanian documentaries, will have its London premiere at our Romanian Cinematheque. The film is an homage to a life spent in a cinema and a life lived (literally and metaphorically) through cinema.
"Cinema, Mon Amour follows the story of Victor Purice - manager, former projectionist and lifetime cinephile - and his two loyal employees, Cornelia & Lorena, in their everyday battle to preserve Dacia Panoramic Cinema in Piatra Neamț, one of the last remaining cinemas in Romania today. A sweet portrait of a profession, passion and nostalgia in an Herculean fight to preserve a culture!" (Edinburgh International Film Festival)

Director: Alexandru Belc
Cast: Victor Purice, Lorena Cosau, Cornelia Chelmu, Gheorghe Purice
Producers: Tudor Giurgiu, Viktoria Hozzova
Scriptwriters: Alexandru Belc, Tudor Giurgiu, Ilinca Micu
Editor: Ion Ioachim Stroe
DoP: Tudor Vladimir Panduru
Music: Cezar Popescu

Selected at: DOK Leipzig, Germany, Jaipur International Film Festival, India, Helsinki International Film Festival, Finland, Jihlava International Documentary Film Festival, Czech Republic, Tempo Documentary Festival, Stockholm, Sweden, Docs Against Gravity Film Festival, Warsaw, Poland, Edinburgh International Film Festival, United Kingdom.
The film won Cinema Warrior 2016, a cultural resistance award at Trieste Film Festival (Italy), Best Documentary Film trophy at Gopo Awards 2016 (Romania), and Best Editing award at Docuart Film Festival (Romania).
Thank you Libra Film for this screening!

When: 29 March 2017, 7pm
Where: Romanian Cultural Institute London, 1 Belgrave Square, SW1X 8PH
Free entry. Please book your seat here.
In Romanian with English subtitles.