Choreographic Extravaganza 'Zic Zac' Opens in London
25/05/2014 @ Leicester Square Theatre London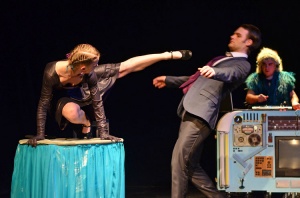 'Zic Zac', the volcanic debut feature of choreographer Andrea Gavriliu, will be performed in London as part of the widely enjoyed 'Tales Told in Romanian' series, developed by independent promoter Claudia Cîrlig in partnership with the Romanian Cultural Institute in London. Described as dynamic and unpredictable, the show narrates the stormy affair between two strangers who meet in a trendy nightclub.
ZIC ZAC
Concept: Andrea Gavriliu
Choreography: Andrea Gavriliu
Cast: Andrea Gavriliu, Ștefan Lupu, Gabriel Costin
Set and Costume Design: Andreea Săndulescu
Video: Gabriel Costin
Andrea Gavriliu created 'Zic Zac' as her graduation piece in the spring of 2013 with the ambition to offer a glimpse into the erotic mores of the Generation Y. Since then, the show has garnered much interest from audiences and critics in Romania and abroad. In 2014, it was crowned the best dance performance by the Romanian Association of Theatre Artists and, this year as well, at Swiss Open Market of Performing Art, the performance was singled out as one of the most interesting.
When: Sunday, 25 May 2014, 3 pm
Where: Leicester Square Theatre, 6 Leicester St., London, WC2H 7BX
Tickets: £ 25 – premium tickets; £12,50 – student concessions; £20 – general admission. Book your tickets HERE
Special offer starting May 7: for every 4 tickets bought, you get one place free!