Charismatic Romanian-Nigerian Pianist Rebeca Omordia Plays African Composers in London
17/04/2018 @ Romanian Cultural Institute, 1 Belgrave Square, London SW1X8PH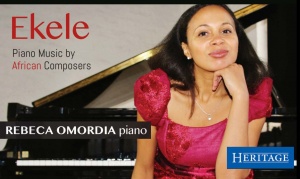 Award-winning pianist Rebeca Omordia explores her African heritage in a concert and CD launch event which showcase the works of Nigerian composers Ayo Bankole, Fred Onovwerosuoke and Christian Onyeji with the aim of bringing their work to a wider audience.
The CD, entitled 'EKELE: Piano Music by African composers' and released in March 2018 on Heritage label, was recorded at the Romanian Radio Hall in Bucharest bearing the print of the pianist's double origin.
London based pianist Rebeca Omordia was born in Romania to a Romanian mother and a Nigerian father. She graduated from the National Music University Bucharest in 2006 when she was awarded full scholarships to study at Birmingham Conservatoire and later at Trinity College of Music in London. Prize winner in international piano competitions including Beethoven Prize, Romania 2007 and Béla Bartók International Piano Competition, Hungary 2010, Rebeca Omordia was awarded the Delius Prize in 2009, which led to an extensive collaboration with the cellist Julian Lloyd Webber. They toured the UK, performing in renowned venues including the Wigmore Hall and Kings Place in London, at Highgrove for the Prince's Trust and they made several live broadcasts for BBC Radio 3. Rebeca Omordia has made a name for herself as a vibrant and exciting virtuoso who is in demand throughout the UK and abroad. She has performed with world-renowned artists including Amy Dickson, Raphael Wallfisch, Elizabeth Llewellyn and Jiaxin Lloyd Webber. Last year, with the support of the Romanian Cultural Institute in London she undertook, together with renowned Romanian cellist Răzvan Suma, an extensive British tour and presented works by British composers and by George Enescu. Rebeca's recording with Mark Bebbington, 'The Piano Music of Ralph Vaughan Williams' reached no. 3 in the UK's Classical Music Chart. Described by the Birmingham Post as "a pianist willing to take risks", Rebeca has performed as a soloist with all the major Romanian orchestras, including the Romanian National Radio Orchestra; and a UK tour of the music of John Ireland described as "completely compelling, authoritative and committed" and "outstanding in every regard". Rebeca's 2018 Nigeria debut with MUSON Symphony Orchestra was described by the Guardian as the "virtuoso pianist who cast spell on Lagos". Rebeca is also a talented arranger, her arrangement of 'The Seal Lullaby' by Grammy-winning composer Eric Whitacre, for cello and harp, was released on Deutsche Gramophon. On 24 June 2016, Rebeca received the Honorary Membership Award (HonBC) from Birmingham Conservatoire. She is currently a PhD candidate at the National Music University in Bucharest.
When: Tuesday, 17 April 2018, 19:00
Where: Romanian Cultural Institute, 1 Belgrave Square, London SW1X 8PH
Entrance is free but we kindly request you to book your ticket HERE.
Please note that seating is unreserved.