Charismatic Pianist Sergiu Tuhuţiu in the 'Enescu Concerts' Series
02/06/2016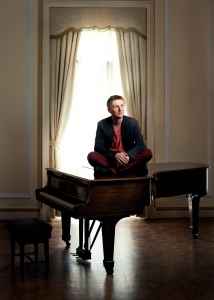 A crossbreed between a Hollywood star and a piano magician, Sergiu Tuhuţiu has established himself as one of the leading pianists of his generation. With a passionate attack disciplined by impeccable technique, Sergiu excels in the grand Romantic repertoire, which forms the core of his programme in the 'Enescu Concerts' Series, featuring works by George Enescu, Frédéric Chopin, Robert Shumann and Franz Liszt.
Winner of Debut to Master Soloist Piano Competition in St. Petersburg, Russia (2013), Sergiu Tuhuțiu established himself as one of the leading pianists of his generation. He holds two Master degrees from Staatliche Hochschule für Musik und Darstellende Kunst, Stuttgart and Gheorghe-Dima Academy of Music, Cluj-Napoca. He is also a graduate of the National University of Music, Bucharest. In 2011 he received a scholarship at London Masterclasses and in 2013 he was awarded with Artist Diploma by the Royal College of Music, London. He has studied with outstanding musicians like Norma Fisher, Bruno Canino, Igor Blagodatov, Nina Seregina, Konrad von Abel, Dana Borșan, Steluța Radu, Daniel Goiți and Shoshana Rudiakov. Sergiu Tuhutziu had his debut at the age of eighteen with Dinu Lipatti Philarmonic Orchestra from Satu-Mare, playing the Beethoven's 3rd Piano Concerto, and has since appeared in concerts on main stages in England, Germany, France, Switzerland, Italy, Russia, Brasil, Canada and Romania. Passionate about chamber music, he also shared the stage with remarkable musicians like Sherban Lupu, Ruxandra Donose or Nelly Miricioiu. Since 2010 he has been president of the Lipatti Music Production Association. Celebrating the greatest Romanian pianist, he organised a highly acclaimed event, In Memoriam Dinu Lipatti, broadcast on Romanian national radio and television. Following this succes, he founded two new projects, Leading Young Musicians and Piano Colours. Currently residing in London, his recent performances include his debut in Russia at the St. Petersburg Philarmonic with Mendelssohn's 1st Piano Concerto conducted by Vladimir Fanshil.
When
: Thursday, 2 June 2016 from 19:00 to 21:00
Where: Romanian Cultural Institute - 1 Belgrave Square London SW1X 8PH
Entrance is free but it is required to book your ticket on Eventbrite.
Please note that the seating is unreserved.