Changing Footprints - Intergenerational Recycling: Traditional Romanian Households in Belgravia
21 - 30/09/2019 @ RCI London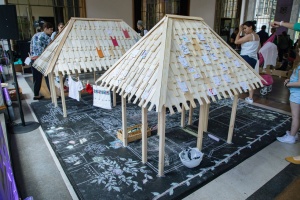 Between 21-30 September, London-based Romanian architects Anca Mihalache and Anastasia Stan are bringing the traditional Romanian households to 1 Belgrave Square, through a series of workshops on building, recycling and interpreting proverbs that welcome both adults and children. The interactive timber and shingles installation will be launched during the Open House weekend.
The project is organised in partnership with the "Sfinții Brâncoveni" Romanian School and is supported by Transport International Romania-UK (Liviu & Oana Bodale) and the Romanian Women in UK. Click here to read more details about the project team.
The typical Romanian rural households are often 'recycled' by successive generations of parents and children by transferring the goods, skills, lands and houses to future generations. The quasi-ephemeral presence of the Romanian traditional house is not preserved through the ages; rather than preserving the material, the craft is conserved.
The exhibition and workshops bring forth ideas of movement and mobility, wisdom and creativity, reflecting on the transmission of knowledge, migration and inter-generational exchange. While the adults will be learning how to shingle a roof, the children will engage in activities that are typical of a traditional household. They will explore Romanian proverbs, learn about the roof shingles and bring the household garden to life. Join us for merriment and crafty cheer!
When: 21 - 30 September 2019. The workshops will be offered on 21, 22, 28 and 29 September, between 10:30-16:30
Where: Romanian Cultural Institute, 1 Belgrave Square, London SW1X 8PH.
Free entry.