Cătălin Ilea & Michael Abramovich in the Enescu Concerts Series
03/11/2011 @ ICR London, 1 Belgrave Square, Londra, SW1X8PH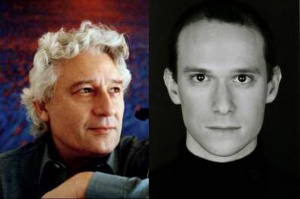 After an original and successful opening of the 2011/2012 season with Contraste Trio, we invite you to a recital of two of the most accomplished specialists of Enescu's music: cellist Catalin Ilea and pianist Michael Abramovich. Join us again at one of the most beautiful Enescu concerts of 2011's fall!
Programme:
Bach: Sonata no.3 in G minor, BWV 1029 for viola da gamba and piano (cello version)
Enescu: Cello Sonata No.2 in C major, op.26
Brahms: Cello Sonata No. 1 in E minor, op. 38
Romanian born cellist Cătălin Ilea started his music career at the age of seven in his hometown of Cluj-Napoca, where he studied with George Iarosevici, a disciple of both Julius Klegel and Dimitrie D. Dinicu. At 29 he became chamber music professor at the Music Academy in Bucharest. In 1977 he occupied the cello principal position, first with the Wuppertal Symphony Orchestra, and later on with the Philharmonia Hungarica. In 1994 he started teaching cello at the Universität der Künste in Berlin. His career as soloist started with four first prizes at international competitions in Italy, Spain and Romania.
Pianist Michael Abramovich was born in Bucharest and grew up in Jerusalem. He studied in Israel with Esther Narkiss and Viktor Derevianko and with Nina Svetlanova in New York. He was the recipient of the America-Israel Cultural Foundation Scholarship. In 1993, he won the first prize at the Tel-Aviv Rubin Academy Piano Master Competition. In 1994 he made his debut with a solo recital in Merkin Hall, New York. Michael Abramovich has given solo recitals in Mexico City, Salt Lake City, Amsterdam (Concertgebouw), St. Petersburg, Israel and throughout Germany. He toured South Africa with Ludwigsburg Festival Orchestra under Wolfgang Gönnenwein in a complete cycle of Beethoven's Piano Concertos.
The Enescu Concerts Series, jointly organized by the Romanian Cultural Institute in London and the Enescu Society, was established in 2007 under the Royal Patronage of HRH Princess Margarita of Romania. The concerts take place in the Institute's chamber music hall every first Thursday of each month from October to June (July). The Series has attracted a wide array of outstanding musicians and ensembles who have managed to give some of the most memorable Enescu performances ever.
Since September 2011, the Romanian Cultural Institute awards every year the Enescu Scholarship to outstanding students at the Royal Academy of Music and Guildhall School of Music and Drama.
When: Thu 3 Nov 2011, 7pm;
Where: Romanian Cultural Institute, London
Admission is free, but places are limited. Early booking is well recommended.
Please reserve your seats at T: 020 7752 0134, E: office@icr-london.co.uk.
Latecomers will be admitted at the interval.