Cărturești Verona, Bookstore of the Year award at London Book Fair International Excellence Awards 2021
30/06/2021 @ online | Website, Facebook page and YouTube channel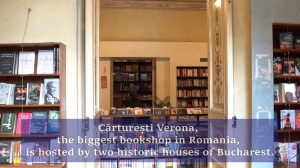 Bucharest-based bookshop Cărturești Verona has received the Bookstore of the Year award at the London Book Fair International Excellence Awards 2021. The jury praised Cărturești's activities during the COVID-19 pandemic: its editorial offer, online activities and its subsidised grant programme to support local writers.
RCI London is inviting you to discover the two beautifully restored buildings located downtown Bucharest that host Cărturești Verona, the biggest bookshop in Romania and Cărturești Carusel - included in The Telegraph's top of the most beautiful bookshops in the world.
Photos: Cătălin Georgescu, Vlad Eftenie Camera: Tudor Massaci Music: Shane Ivers Concept & Editing: Romanian Cultural Institute London For the past 20 years, Cărturești has been redefining the readers' expectations of bookshops in Romania. The two spectacular bookshops and the entire Cărturești chain (boasting 38 bookstores in Bucharest and 17 other cities) are home for an impressive selection of books both in Romanian and foreign languages: fiction and nonfiction, poetry, philosophy, sociology and aesthetics, business, psychology and science, spirituality and religion together with an excellent choice of books in foreign languages. The entire reading experience is completed by the very thoughtful and gorgeous selection of music, art books and design objects.
When: Wed 30 June 2021, 19.00
Where: RCI London's online channels: Facebook page, YouTube channel & website