"Caramitru-Mălăele, câte-n lună și în stele" - "Caramitru-Mălăele, a Tapestry of Tales"
26/05/2013 @ Leicester Square Theatre, 6 Leicester St., London, WC2H 7BX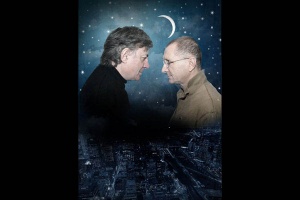 For one night only, from sold-out theatres in Romania: "Caramitru-Mălăele, câte-n lună și în stele" - "Caramitru-Mălăele, a Tapestry of Tales" brings to London two much loved legends of the Romanian stage, Ion Caramitru and Horațiu Mălăele, in a delectable duel of anecdotes, stories, fables, poetry and memories, beautifully complemented by the mesmerizing cello and voice of Adrian Naidin.
Please Note: This production will be performed entirely in the Romanian language without English surtitles.
More about the performance on the the Romanian page.
When: Sunday, 26 May 2013, 7 pm
Where
: Leicester Square Theatre, 6 Leicester St., London, WC2H 7BX
Tickets: £12 - early bird tickets; £ 17; £ 7 - student concessions. Book your tickets HERE or at 08448 733433