Building on the Past: Pioneer Romanian Women in Architecture
19 - 28/06/2019 @ Romanian Cultural Centre, 18 Fitzhardinge Street, London W1H 6EQ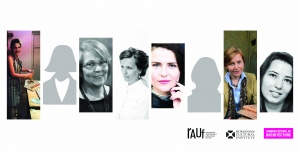 This June, to mark Romania's eighth participation at the London Festival of Architecture, a citywide celebration of architectural innovation and international built environment, we focus on female creativity and bring to the fore some of Romania's most remarkable talents in the field.
The role and recognition of women's achievements in architecture continues to be debated publicly, in the UK and globally. To weigh in on the debate, the Romanian Architects' and Urbanists' Forum in Great Britain (RAUF) and the Romanian Cultural Institute in London (RCI) launched a Call for Proposals, inviting architecture practitioners to nominate those professionals who inspired them or became their role models. The project aims to highlight the achievements of outstanding Romanian women architects - from trailblazing pioneers to contemporary masters of their trade - and will showcase a variety of their built projects or virtual designs, writings and art.
The top eight winning entries, chosen by a jury led by the London Festival of Architecture's Head of Programme Rosa Rogina, form the core of an exhibition and will include: Eliza Yokina (Ro) – architect; Maria Cotescu (Ro) – Modern Movement industrial architect; Anastasia Stan (UK) – emerging architect; Ana Maria Zahariade (Ro) – academic; Silvia Demeter-Lowe (Ro) – conservation architect; Andreea Livia Ivanovici (Ro) - emerging influencer; Oana Bogdan (Be) – architect; Lucia Dumbrăveanu (Ro) – 20th Century architect. Part of the London Festival of Architecture (LFA) and entitled 'Pioneer Romanian Women in Architecture', the exhibition, curated by Dr. Maria Boștenaru Dan, will also showcase a few other architects who practice internationally, as well as 'influencers' who made a decisive contribution to the advancement of the profession.
The project will be inaugurated with a panel discussion chaired by Rosa Rogina, in the company of guest contributors Azlina Bulmer - RIBA Director of International Regions, Jane Duncan OBE - RIBA Past President and Prof. Doina Petrescu - School of Architecture, University of Sheffield.
The event is organised by the Romanian Architects' and Urbanists' Forum in Great Britain and the Romanian Cultural Institute in London, with the support of the Rațiu Family Charitable Foundation.
When: Opening and panel discussion: Wednesday 19 June, 7pm (doors open at 6:30pm). The exhibition can be visited until 28 June, Mon-Fri between 10am-5pm.
Where: The Ratiu Foundation / Romanian Cultural Centre, 18 Fitzhardinge Street, London W1H 6EQ.
Free entry. Please confirm your attendance on Eventbrite.