British-Romanian Encounters on International Museum Day
18/05/2020 @ RCI London's facebook page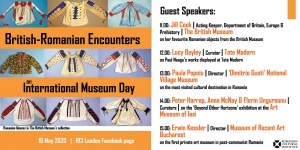 Join us for a magnificent day out at your favourite British and Romanian museums in the company of renowned art authorities including Jill Cook of the British Museum, Lucy Bayley of the Tate Modern, Paula Popoiu of Dimitrie Gusti National Village Museum, Erwin Kessler of the Museum of Recent Art (MARe) Bucharest and curators Peter Harrap, Anna McNay and Florin Ungureanu.
Celebrate in style the International Museum Day and discover some truly fascinating stories, on the RCI's Facebook page on Monday 18 May.
Guest Speakers:
11.00: Jill Cook | Keeper, Department of Britain, Europe & Prehistory | The British Museum
on her favourite Romanian objects from the British Museum
12.00: Lucy Bayley | Curator | Tate Modern
on Paul Neagu's works displayed at Tate Modern
13.00: Paula Popoiu | Director | 'Dimitrie Gusti' National Village Museum
on the most visited cultural destination in Romania
14.00: Peter Harrap, Anna McNay & Florin Ungureanu | Curators |
on the 'Beyond Other Horizons' exhibition at the Art Museum of Iasi
15.00: Erwin Kessler | Director | Museum of Recent Art Bucharest
on the first private art museum in post-communist Romania.