Bristol Festival of Ideas 2021: What is the Future for Mid-size Cities? - Panel discussion
18/10/2021 @ Romanian Cultural Institute in London, 1 Belgrave Square SW1X 8PH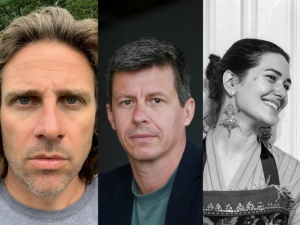 The fourth Festival of the Future City takes place 20-21 October 2021 and aims to be the largest public debate about the future of cities. Bringing together politicians, writers, artists, scientists, change-makers, academics, journalists, students, policy makers, roboticists, philosophers, filmmakers, city-builders and more, the festival themes are diverse and thought-provoking: social justice, COP26 and inclusive and sustainable cities, urban and planetary health, cities and regions after the pandemic, film and cities, culture and cities, digital futures and cities, mayoral powers and future devolution, democracy and freedom of expression, levelling up, and the future of city and town centre.
Monday, 18 October 2021, from 6 PM | Panel discussion: What is the Future for Mid-size Cities? | Speakers: writer Aurélien Bellanger, architect Matevž Čelik, Ilinca Păun Constantinescu, president of the IDEILAGRAM Association.
The three panellists discuss how artists, writers and architects can help us understand the shift from big to mid-size cities. The rate of urban shrinkage, which has seen some people moving away from superstar cities to smaller towns and rural areas in search of a better and safer quality of life, has been increased by the pandemic. In Europe, after years of expansion, urban development is taking an unexpected turn, accelerated by the health crisis and also by fears of areas being left behind. Once secondary in the collective imagination, mid-size cities could well become the focus of future concerns.
Ilinca Păun Constantinescu earned her PhD degree in architecture in 2013. She currently practices architecture at Ideogram Studio, teaches theory of architecture at "Ion Mincu" University of Architecture and Urbanism Bucharest, and leads cultural projects within the IDEILAGRAM Association. In 2021 she exhibited at the Venice Biennale of Architecture, within the Romanian pavilion, Fading Borders.
Aurélien Bellanger is a French writer, a philosophy critic and an actor. He debuted in 2010 with a monograph about Michel Houellebecq and has since published four novels, mostly dealing with technology, modern life and contemporary European mythologies. His second novel, L'Aménagement du territoire, received the 2014 Prix de Flore. His latest book is Téléréalité (Gallimard, 2021).
Matevž Čelik is the founder and programme director of Future Architecture platform, a pan-European platform for exchange and networking between emerging talents and architectural institutions. He is an architect, writer, editor, researcher and developer of new cultural models in the fields of architecture and design. Until 2020 he was director of MAO, Museum of Architecture and Design in Ljubljana, Slovenia, which under his leadership grew into a flagship national institution with international reach. In 2016, 2018 and 2020 he was the Commissioner of the Slovenian Pavilion at La Biennale di Venezia. He is a member of the advisory board of the Archipelago festival in Geneva.
The festival is part of the Europe Readr project initiated on the occasion of the current Slovenian Presidency of the Council of the EU. Run in association with EUNIC.
Booking Information:
This is an online event on Crowdcast. Please note that Crowdcast works best in Chrome.
The full calendar of events: www.bristolideas.co.uk