Brâncuși on the Playground
19/11/2016 @ AlexZ Educational, Hendon School, Golders Rise, London NW4 2HP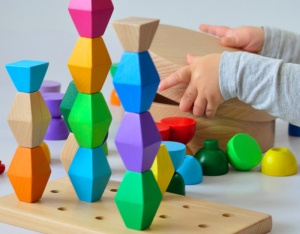 The Romanian Cultural Institute in London and AlexZ Educational are bringing Constantin Brâncuşi to his youngest admirers through a weekend of workshops offered by the artistic duo Monotremu. Children between 4 and 14 years of age are invited to discover the great sculptor by recreating some of his most iconic works.
The Romanian artist couple Monotremu was inspired by their toddler to create Minitremu, a playful project that aims to bring art into children's lives in an innovative and unpretentious way. Minitremu translates Constantin Brâncuşi's monumental works into wooden toys, colourful and meaningful objects which children can interact, interpret, and enjoy. 'The Little Table of Silence' and 'The Little Endless Column' will be recreated using only non-toxic colours and children friendly materials.
AlexZ-Românește de la A la Z is a weekend Romanian school founded in 2013 for Romanian children living in London and its surroundings. At AlexZ children between the ages of 4 - 14 are taught about the Romanian language, culture and traditions every Saturday from 10am to 1pm in Hendon and Stratford.
When: 19 November, 10am-1pm
Where: AlexZ Educational, Hendon School, Golders Rise, London NW4 2HP