Book Launch:'Secrets of Transylvania'
28/02/2021 @ online | Website, Facebook page and YouTube channel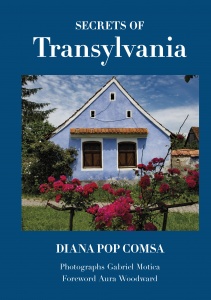 The gorgeous book-album "Secrets of Transylvania" by Diana Pop Comșa is a picturesque foray into the landscape, crafts and rural life of Transylvania, Romania. The preface is signed by Aura Woodward, former executive director of the "Prince of Wales Foundation" in Romania and former correspondent for BBC, and all the photos included were taken by Gabriel Motica, artist and ambassador of local tourism.
The trio meet up online for a special conversation exploring the beauty of rural Transylvania with its remaining artisans, old age rural practices and diverse food that turn the region into a poetic and charming place.
Diana Pop Comșa is a marketing and big data specialist, graduate of EDHEC business school in France. She was born and raised in Transylvania, but her academic and professional life has subsequently led her to Vienna, Nice, Paris, San Francisco and London.
Aura Woodward is a charity executive and communication professional. Over the past 15 years she has served The Prince of Wales' Charities. More recently, she was the Executive Director of the Prince of Wales Foundation Romania, a charity which supports heritage preservation and rural development. She is educated in law and journalism and has recently completed the Executive Leadership Programme at Oxford University.
Gabriel Motica is a graduate of the School of Photographic Arts and Cinematography from Baia Mare and he is a member of the Romanian Association of Photographic Artists. He has held several exhibitions and launched books that showcase the beauty of Northern Transylvania and Maramures, regions for which he is also a tourism ambassador.
The book "Secrets of Transylvania" can be purchased from Amazon.
When: 28 February 2021, 19.00
Where: live stream on RCI London's Facebook page and Youtube channel