Bogdan Raţă's Colossal Hand in Front of St George's Hall, Liverpool
04/07 - 26/10/2014 @ St George's Hall, St George's Place, Liverpool L11JJ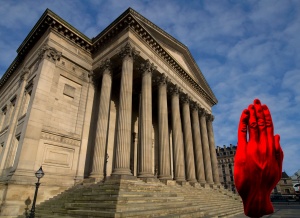 Daring sculptor Bogdan Raţă features in this year's edition of the Independents Liverpool Biennial with his 3.5 meters high sculpture 'The Middle Way', depicting a huge palm open to the sky. The oversized, traffic-stopping sign is placed in front of St George's Hall, one of Liverpool's landmarks, as part of the largest international contemporary art festival in the United Kingdom. The project is curated by Năsui Collection & Gallery (Bucharest) and supported by the Romanian Cultural Institute in London.
Bogdan Raţă (b. 1984) is a young Romanian sculptor ingratiated with critics and audiences both at home and abroad. His hybrid realism aims at inventing new forms of human anatomy: "I work with human fragments which I combine in order to create images with a strong emotional impact: frustration, fright, shame. I reinterpret the human body precisely in order to induce a state of confusion to the reader and to, in a way, force him to understand, from a different perspective, the contemporary human being. A finger can be stronger than a rifle, an ear more frustrating than an interrogation."
Bogdan Raţă's exhibitions include 'Artists of the Month', National Museum of Contemporary Art, Bucharest; 'Hand Gun', public artwork in Piaţa Presei Libere, Bucharest; 'Penitenciary', Mulhouse Biennial, Art Basel; 'God Bless Me', Slag Gallery, New York; 'The Essences of Reality', Várfok Gallery, Budapest; 'Colouring the Grey – State of Body', Independents Liverpool Biennial – St. George's Hall; 'Colouring the Grey - State of Mind', Artists' House, Tel Aviv; 'Colouring the Grey', Moscow Biennale of Contemporary Art.
Also with the support of the Romanian Cultural Institute, the artist's work was part of 'Kaleidoscope: Contemporary Art from EU Member States', an exhibition organized in Dublin in 2013 on the occasion of the Irish presidency of the Council of the European Union.
When: 4 July – 26 October 2014
Where: St George's Hall, Liverpool