Bogdan Mihai Radu's 'Eight Regained Moments': Exhibition & Painting Workshops for Children
02 - 10/08/2021 @ RCI London, 1 Belgrave Square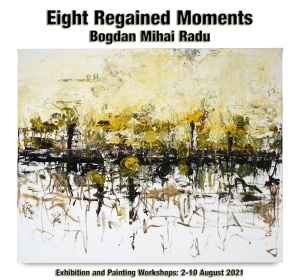 Bogdan Mihai Radu's show includes, for the first time, the large enthralling painting and floral installation "Yellow Flowers" which is on the short list for the Summer Exhibition organized at the Royal Academy of Arts, as well as seven other works. As an artist, Bogdan always perceived himself bridging his interior world with the reality of the outside; his artwork speaking about the lost moments and the absolute joy of regaining them through art.
Opening: 2 August 2021 at 19.00, in the presence of the artist.
Two other events will complement the show: painting workshops for children aged 6-14 years old, dedicated to one of the most vibrant and major theme addressed in painting: nature. Guided by artist Bogdan Mihai Radu, the children will be introduced to basic painting techniques and will have a unique learning experience with acrylic paint on canvas.
At the end of the workshops, children will recreate the floral installation that anchors the majestic painting "Yellow Flowers".
Dates:
2 August 2021, 11.00-13.00. Eight places available. Free. Materials will be provided. Please register here.
7 August 2021, 11.00-13.00. Eight places available. Free. Materials will be provided. Please register here.
According to the artist, the pandemic has profoundly influenced his work: "The pandemic opened a box of sad memories for me. The loss of loved ones and its repeatable pain is relived with every funeral during the deadly pandemic. This feverish wakefulness of the end grinds me down and puzzles me with its overwhelming power to evoke the past. I have incorporated in my new work recollections from the practices I learned at my agricultural school - picking the sharp, yellow corn, witnessing the end of the grey Communist regime, the mourning and memorials that took place in Transylvanian cemeteries.''
Bogdan Mihai Radu is a Romanian painter living in London known for his abstract landscapes, depiction of flowers and deeply colourful, textured paintings. He had several noteworthy solo and group exhibitions in Romania and Great Britain. Bogdan moved to London after winning 1st prize in the Oxford International Art Fair in 2018 which led him to present his work at the Tokyo International Art Fair in the same year.
In November 2020, Bogdan received an official decoration for his contribution to arts and culture; as a sign of recognition and appreciation for the important and prestigious career in the service of visual arts, for the talent, dedication and professionalism that led to the enrichment of universal culture and spirituality and for the major contribution to promoting Romania's image in the United Kingdom.
When & Where:
Private View: Monday 2 August 2021, 19.00. Please confirm your attendance here.
Exhibition: 2-10 August 2021, 1 Belgrave Square | Monday to Friday 10am – 5pm.
Painting Workshops: 2 & 7 August, 11.00-13.00, 1 Belgrave Square, London, SW1X 8PH.