Bogdan Costache and Andrada Brisc at St Martin-in-the-Fields
01/12/2015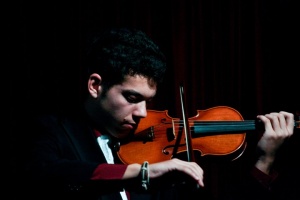 The Romanian series at St Martin-in-the-Fields, a decade of tumultuous virtuosity and exuberant youthfulness, continues with the recital of violonist Bogdan Costache and pianist Andrada Brisc. The two promising performers will deliver a programme comprising timeless pieces by Milstein, Enescu, Brahms, Sarasate, and Bazzini, as well as Porumbescu's ravishing 'Ballade', an all time favourite.
Violinist Bogdan Alexandru Costache is a young and gifted performer with a growing international career as a soloist. Born in Craiova, Romania, in 1992, he began playing violin at the age of 5 and three years later made his debut as a soloist with Brasov Philharmonic Orchestra. Bogdan has been awarded prizes in over 30 national and international competitions, including the Great Prize and First Prize at the International Violin Competition 'Remember Enescu' (Romania), Second Prize in the Jeunesses Musicales Competition (Romania) and at the International Music Competition 'Prize Monterosa Kawai' (Italy). He has performed recitals in Romania, Italy, Germany and UK and has performed as soloist with Brasov Philharmonic Orchestra, CEI International Youth Orchestra, Brasov Opera Orchestra, and Bucharest Sinfonia Orchestra. Between 2009 and 2011, he was the concertmaster of CEI International Youth Orchestra.
Romanian pianist and classical music singer Andrada Maria Brisc graduated in 2007 in both piano and voice at the Oradea University's musical school. In 2011, she graduated in Piano Accompaniment at The Royal Academy of Music in London, having studied with Andrew West, Diana Ketler, Audrey Hyland and Pepi Ferrari. During her studies and after graduation, Andrada has taught piano and singing as a full time tutor at the Art High School in her home town. In 2012, together with Florin Pascu she opened AB MUSIC DREAMS, a private music school located in West London. Since 2013, Andrada has been teaching piano at St. John's School, Leatherhead. In addition to teaching, Andrada has enjoyed a performing career in Europe (Romania, Hungary, Italy, United Kingdom) both as a pianist and as a singer. Her first album of traditional Romanian carols, recorded with Florin Pascu, has been received with enthusiastic reviews by the musical critics. The second album, recorded with the National Radio Orchestra in Bucharest, was released last winter. Andrada is currently preparing the A minor Piano Concerto by Schumann with the Surrey Philharmonic Orchestra.
When: Tuesday, 1 December, 1pm
Where: St Martin-in-the-Fields, Trafalgar Square, London
This lunchtime concert is free and no ticket is required.