Four Faces of Modernity: Bitzan, Maitec, Mitroi, Nicodim
19/10 - 17/11/2011 @ Romanian Cultural Institute London, 1 Belgrave Square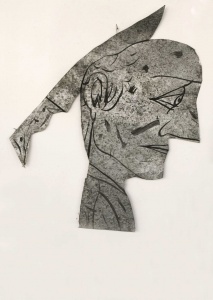 Opening: Wednesday 19 October, 6.30 – 8.30pm
Ion Bitzan, Ovidiu Maitec, Florin Mitroi and Ion Nicodim are four of Romania's most celebrated artists for their original ideas and resourceful works that built up an artistic typology of the 1970 / 90s, during the turbulent years of the Communist regime.
This major exhibition, organised in association with the National Museum of Contemporary Art in Bucharest (MNAC), reveals facets of their work that delve into the subjects at the heart of modernity: art, culture, life, nature and the changing politics and society of the age. Through a remarkably diverse artistic production, embracing drawing, painting, assemblage and sculpture, in works that are by turns romantic, brutal, critical and utopian, the artists helped create new aesthetics away from the Socialist Realism style and their lasting impact continues to live in the memory today.
The exhibition features works from the MNAC collection as well as four sculptures by Maitec from Sonia Rouve and Alastair Laidlaw collections in London.
Ion Bitzan (1924-1997) trained at the "Nicolae Grigorescu" Institute of Fine Arts in Bucharest. He employed a wide range of artistic means and styles, including assemblage, painting, sculpture, text and object as well as metaphor, popular mythology and post-modernist irony. Bitzan exhibited widely in Romania, Italy, Brazil, France, Germany, Scotland, The Netherlands, USA, Ireland, Japan, Norway, Spain, Hungary and Poland. He represented Romania in the Venice Biennale, 1964 and 1997, and in the Sao Paolo Biennale, 1967, 1969 and 1981. His work is included in private collections in Romania, Germany, The Netherlands, France, Italy, USA, Northern Ireland, England and Scotland.
Ovidiu Maitec (1925 - 2007) studied sculpture at the "Nicolae Grigorescu" Institute of Fine Arts in Bucharest from 1945 to 1950. He made his debut as a sculptor in 1953, exhibiting works inspired by Socialist Realism, but soon afterwards he began to explore different aesthetics and means of expression. The synthesis between the legacy of Brancusi and Op Art made Maitec one of the most original post-war Romanian artists. He exhibited in the Venice Biennale several times, the Edinburgh International Festival and the Georges Pompidou Center in Paris. His works are in the Tate Collection and also in various public and private collections in Paris, Sydney, Florida and Bucharest.
Florin Mitroi (1938 – 2002), a professor at the Bucharest Academy of Art since 1960, the author of a few thousand drawings and hundreds of paintings on canvas, wood, glass and metal, had only one solo exhibition during his life, in 1992, just ten years before his premature death. However, he exhibited in various international group shows both before and after 1989, being the recipient of important awards and scholarships. His work was dominated by a special sense of perception for the state of decay, degradation and decomposition, and by a bitter fascination towards self-mutilation and self-abasement. Works in Museums and Collections: Contemporary Art Musem, Galaţi, Romania; Banat Museum, Timişoara, Pomerania Museum, Szczecin, Poland; Hajduboszormeny City Museum, Hungary; Kuopio Museum, Finland; Zirc Museum, Hungary; private collections in Romania, Hungary, Germany, Portugal, Switzerland, Israel and S.U.A.
Ion Nicodim (1932 - 2007) studied at the Fine Arts Institute, Bucharest, where he acquired a sound knowledge of expressive values of modern art. From 1963 to 1968 he worked and exhibited in Rome. In the mid-1970s he produced compositions containing a profoundly tragic message, such as Requiem for the Unknown Soldier, which attracted the hostility of official ideological circles. In response, in 1976 he established a studio in Paris, where he worked on large canvases as well as a cycle entitled The Hearts, which included a series of earth and straw sculptures in the form of tall poles supporting hearts, evoking the ancestral archaism of the Romanian rural environment. One of his large-scale tapestries is displayed at the United Nations headquarters in New York.
When: 19 October - 17 November 2011, Mon – Fri 10am – 5pm
Where: Romanian Cultural Institute, London.
Admission: free.
Exhibition view photos: Inno Brezeanu © Inno Brezeanu.