BFI London Film Festival featuring Romanian animated documentary
14 - 16/10/2011 @ BFI London Film Festival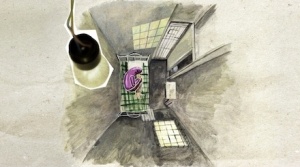 We are proud to support director Anca Damian's presence at the 55th edition of the BFI London Film Festival and her British premiere of Crulic – The Path to Beyond, an animated feature highly praised for its beautiful artwork and powerful story.
Narrated from beyond the grave by its main protagonist, Crulic - The Path to Beyond is an unusual animated feature telling the story of a 33-year-old Romanian, who died in a Polish prison while on hunger strike. The film reconstructs his life story from the available evidence, but its animated techniques lift its analysis to a new expressive level. The use of hand drawn images, collage, stop motion, and cut out animation brings subtlety and poetry to a tragic story that is both beautifully written and sensitively visualised. The character of Crulic is voiced by the Romanian actor Vlad Ivanov, noted for his work in Romanian 'New Wave' films.
Peter Hames on Crulic - The Path to Beyond, BFI London Film Festival website
Crulic - The Path to Beyond premiered during the Locarno Film Festival where it was awarded a special mention. The film was part of the Focus on Romania programme at the Reykjavik Film Festival.
Anca Damian's participation at the BFI LFF is supported by the Romanian Cultural Institute in London.
Trailer: http://www.youtube.com/watch?v=4QMr9bC4Hro
When and Where:
Fri 14 | 19:00 | ICA 1
Sat 15 | 20:45 | NFT2
Sun 16 | 14:00 | NFT3
Tickets: http://www.bfi.org.uk/lff/