"Between Clay and Star": Astounding Voices of Romanian Verse in English Translation
26/09/2013 @ Institutul Cultural Român, 1 Belgrave Square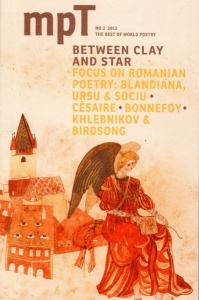 We are delighted to host the launch of the Modern Poetry in Translation summer issue Between Clay and Star including a feature on Romanian poetry. Five of the most exciting Romanian poets, whose work spans the twentieth and twenty-first century, Ana Blandiana, Gellu Naum, Mariana Marin, Dan Sociu and Liliana Ursu, are all represented in fine new translations. Poets Mihaela Moscaliuc, Oana Sanziana Marian, Stephen Watts and Claudiu Komartin are amongst the translators, alongside Paul Scott Derrick and Viorica Patea.
Freshly released by MPT – one of the most prominent publications in Britain that brings the very best of world poetry in translation – the Romanian Focus is the fruit of a successful collaboration initiated and developed in 2012 by the Institute and the MPT.
The issue features seven poems by Liliana Ursu, anchored in Romanian landscape; three visionary yet paradoxical poems by Ana Blandiana; one long poem by Gellu Naum, melting together Romanian folklore with traditions of European surrealism; three expressionistic poems by Mariana Marin; four sonnets by Dan Sociu and a conversation between him and Oana Sanziana Marian about hipsters and hippies, online Romanian literature journals and the passions they inspire.
Hosted by the Romanian Cultural Institute in London, the launch will be opened by MPT Editor Sasha Dugdale, and followed by poetry readings with Claudiu Komartin amongst other featured poets and translators, and ethno jazz with Monooka s Caravan. A night to remember!
The magazine can be purchased from MPT website (£7): http://www.mptmagazine.com/product/no2-2013-between-clay-and-star-153/.
When: Thursday 26 September, 7pm
Where: Romanian Cultural Institute
Free event, booking essential at: mptsummerlaunch.eventbrite.co.uk