Berthelot: A French General for Romania
11/12/2018 @ Institut français du Royaume-Uni, 17 Queensberry Place, London SW7 2DT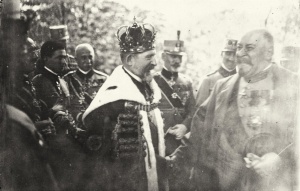 Henri Mathias Berthelot (1861–1931), often referred to as the French general with a Romanian heart, is remembered this December at London's Institut français, as part of the Ciné Lumière programme. Join us for the UK premiere of the "General Henri Mathias Berthelot. The Battle for Romania" documentary, a film that speaks about Romania's national hero during World War I!
"General Henri Mathias Berthelot. The Battle for Romania"
With an introduction on the French-Romanian relations during WWI by historian Marius Turda (Oxford Brookes University)
Followed by Q&A with director Mihaela Natalia Poenaru and producer Petru Mihalea
Romania | 2018 | 68 mins | in Romanian & French with English subtitles
Berthelot arrived in Bucharest in the midst of a demoralizing defeat at the hands of the Central Powers in 1916. The World War I general's invincible will to resist energized the Romanian political and military leadership and, with his assistance, the Romanian army was rebuilt. Berthelot was one of the most consistent supporters of Greater Romania and, when King Ferdinand, Queen Marie and Crown Prince Carol II entered Bucharest on 1 December 1918, he was the only military to accompany them.
The documentary, produced by Trinitas TV with the support of the Romanian Cultural Institute, sheds light on the life of Romania's friend, an important actor of the post-war European reconstruction. The film features interviews by Prof. Ioan Aurel-Pop - President of the Romanian Academy, Prof. Adrian Cioroianu - historian and UNESCO Ambassador, prestigious historians and authors from Romania and abroad, as well as an exclusive interview with Berthelot's nephew Jean Claude Dubois, who speaks about his life outside the battlefields.
"My being among the Romanians across the mountains (in Transylvania) convinced me that their soul is the same as that of the Romanians in Bucharest and Iași. I was, at the same time, moved by the unanimous manifestations of love and respect for France, by the sincerity and delicacy of their expression." – H. M. Berthelot, Commander of the Allied Armies of the Danube, in a letter to Iuliu Maniu, President of the Governing Council of Transylvania, Banat and the Romanian territories in Hungary (31 Dec 1918 /13 Jan 1919)
The event marks Romania's Great Union Centenary (1918-2018) and is organised in partnership with the Institut français in London and the Embassy of Romania.
When: Tuesday 11 December 2018, 18:30
Where: Ciné Lumière, Institut français du Royaume-Uni, 17 Queensberry Place, London SW7 2DT
Tickets: https://www.institut-francais.org.uk/cine-lumiere/whats-on/special-screenings/general-henri-mathias-berthelot-the-battle-for-romania/