Belgravia Revisited: an encounter with 'Vivien Leigh'
14/06/2017 @ Romanian Cultural Institute, 1 Belgrave Square, London SW1X 8PH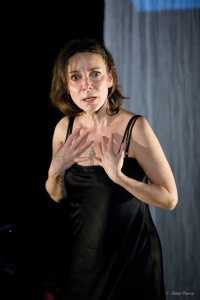 Our theatre programme continues with a brilliant depiction of the last years of the great Vivien Leigh starring the revered thespian Lamia Beligan in a career defining one-woman show. The play, "Vivien Leigh - The Last Press Conference" by Marcy Lafferty, follows the great actress, now a mere shell of the former diva, as she relentlessly tries to explain her life - her amazing career, her all-devouring love for Sir Laurence Olivier and her tragic illness - to an increasingly detached public. We are pleased to present this performance in our theatrical space in 1 Belgrave Square, only a couple streets away from 54 Eaton Square, where Leigh spent her last, sad and solitary years.
"And the artists shall inherit the earth, and the world will be a garden." (Vivien Leigh)
"Vivien Leigh – The Last Press Conference"
By Marcy Lafferty
Translated by: Lamia Beligan
Directed by Liana Ceterchi
With: Lamia Beligan
Set design and costumes: Liana Ceterchi and Lamia Beligan
Produced by: Excelsior Theatre in Bucharest
The show will be performed in Romanian with English surtitles. The performance is presented in London by the Romanian Cultural Institute and the Excelsior Theatre in Bucharest.
Born in Bucharest to one of Romania's most beloved actors, Radu Beligan, and to writer Marica Beligan, Lamia Beligan trained to become a ballet dancer. Unfortunately, an accident put an end to her dancing career and instead pushed her towards drama, which she studied with professor Ion Cojar. Throughout her career, Lamia has worked in all important theatres in Bucharest and Romania and has won numerous prizes such as the Best Actress for Gwendolline in the musical comedy "Good Evening, Mr Wilde" at Liverpool International Theatre Festival in 1990 and the Best Actress of 1998 offered by the "Iulia Popovici" Foundation. In 2001, Lamia Beligan was awarded the Romanian Order of Cultural Merit.
Liana Ceterchi has directed for the most prestigious theatres in Bucharest, among which Bulandra, Act, and Nottara. In recent years, she has made an active effort to encourage and support Romanian independent theatre and, most notably, to enhance the female presence in the performing arts. She set up the "IF / DACĂ ... Women in Theatre Association" through which she has produced a great number of shows starring both famous actresses and young talent. The role of her association has also proved unique in raising fundamental problems such as "autism", using drama as therapy and performing in women's prisons throughout Romania.
When: Wed 14 June, 7pm
Where: Romanian Cultural Institute, 1 Belgrave Square, London SW1X8PH
Entrance is free but it is required to book your ticket on Eventbrite
Please note that the seating is unreserved and that latecomers will not be admitted.