Baritone Silviu Alexandru Mihăilă and pianist Alexandru Petrovici start off RCI London's musical summer
23/07/2020 @ Romanian Cultural Institute in London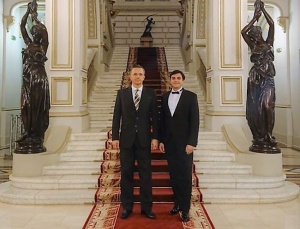 RCI London joins forces with some of the most exciting up-and-coming Romanian musicians for a programme of breezy aestival cadenze taking you on a musical journey through Romania's and Britain's most celebrated compositional landmarks.
The first concert is performed by young baritone Silviu Alexandru Mihăilă and virtuoso pianist Alexandru Petrovici, with a programme including Enescu's Silence alongside Sweet Chance by Michael Head. The recital was recorded in Bucharest on 19 July 2020 and will be presented online, via our Facebook and YouTube channels.
Programme:
Michael Head - Sweet Chance, That Led My Steps Abroad - A British Art Song
George Enescu - Silence
Tiberiu Brediceanu - Cantec Haiducesc II: Arde-mi-te-ai codru des
Aurel Eliade, lyrics by Mihai Eminescu - Revedere

Silviu Alexandru Mihăilă is a prodigiously gifted young baritone who attended the "George Enescu" Music Highschool in Bucharest, where he studied with soprano Liliana Dumitrache, and then received the Entrance Award from the Royal Northern College of Music in Manchester. Silviu studied under the tutelage of the internationally acclaimed dramatic tenor David Maxwell Anderson, who is dedicated to the development of promising young singers' careers. He has won an impressive number of prizes at national and international vocal competitions and performed in well-known venues such as the Romanian Athenaeum, Tinerimea Romana and Mihail Jora concert halls. He has also performed in masterclasses given by world-renowned musicians such as Sir John Tomlinson, Christopher Purves, Anthony Spiri, Roger Vignoles and Gabriel Teclu. Two of his most recent performances are "Werther" by Jules Massenet and "La buona figliuola" by Niccolò Piccinni.
Pianist Alexandru Petrovici graduated from the National Music University of Bucharest and has a PhD in musicology. As an accompanist pianist, he collaborated with celebrated musicians such as Angela Gheorghiu, Roberto Alagna, Mariana Nicolesco, Dan Iordachescu Maria Slatinaru-Nistor, Felicia Filip, Ludovic Spiess, Oana Andra, Marius Brenciu and Alberto Zedda.
When: Thursday 23 July 2020 at 19.00
Where: online via RCI London's Facebook page and YouTube channel.