Balkan Noir: Is Romania Crime Fiction's Wild East? – A Discussion with Renowned Crime Fiction Authors
16/11/2021 @ Romanian Cultural Institute London, 1 Belgrave Square, SW1X 8PH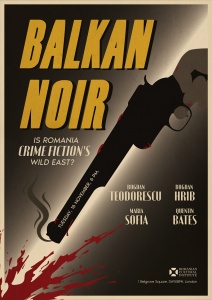 While the increased translation, circulation and consumption of crime fiction is to be applauded, the internationalisation of the genre has led to further distinctive characteristics being imposed on the genre. Moreover, despite the internationalisation, usually crime novels are adapted to the national context in which they are produced. Crime Fiction authors Bogdan Hrib - journalist, photographer and publisher of both academic books and fiction and Bogdan Teodorescu - professor, journalist and communications expert will be joined by the translator Marina Sofia in a though-provoking panel-discussion on the state of the crime fiction genre in Romanian and British literature. The discussion will be chaired by Quentin Bates, accomplished author, translator, and publisher at Corylus Books.
Panel discussion | Tuesday, 16 November from 6 PM | RCI London, SW1X8PH |
Bogdan Teodorescu is a journalist and communications expert, and a Professor of Political Marketing and Communications at the National School of Political and Administrative Studies in Bucharest. He has many years of experience as a political analyst and election campaigns manager, which gives him ample material for the five political thrillers he has written to date. His first novel to be translated into English Sword was a bestseller both in Romania and in France, where Le Figaro called it 'a noir novel with troubling political implications, as dark and as shocking as they come'.
Bogdan Hrib has worked as a journalist, photographer and publisher of both academic books and fiction. He is the vice-president of the Romanian Crime Writers Club and the director of the International Mystery and Thriller Festival in Rasnov, Romania. Two of his previous books in the Stelian Munteanu series have been translated into English. His most recent novel is the highly topical Resilience, where personal tragedy meets political conspiracy, fake news, and manipulation of public opinion.
Marina Sofia was born in Romania but has lived in the UK for half of her life. Alongside her day job at the University of London, she was a reviewer for Crime Fiction Lover for many years. She has also worked for Asymptote Journal which specialises in translations.
Quentin Bates is the author of the popular Gunnhildur Gisladottir series set in Iceland, as well as a highly regarded translator from Iceland. He is one of the founders of Corylus Books which publishes exciting new voices in crime fiction from under-represented languages in the English-speaking publishing world.
When: Tuesday, 16 November 2021, 18.00
Where: Romanian Cultural Institute in London, 1 Belgrave Square, SW1X8PH
Entrance is free but we kindly request you to book your ticket on EVENTBRITE.
Kindly book only if you are certain to attend and release the seats.
Please note that seating is unreserved.
*Face coverings highly recommended.