Bălănescu Quartet Pays Tribute to Maria Tănase, the Ultimate Diva of Romanian Stage
22/09/2013 @ LSO St Luke's, 161 Old Street, London EC1V 9NG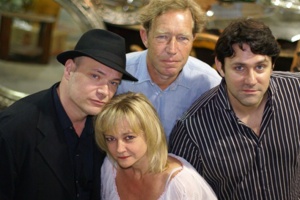 The Romanian Cultural Institute celebrates legendary singer Maria Tănase (1913-1963) with Maria T, a touching musical homage composed by Romanian-born composer Alexander Bălănescu and performed by his quartet with a visual echo by Klaus Obermaier.
Inspired by the most iconic of Maria Tănase's songs, Alexander Bălănescu has created an irresistible, subtle fusion of modern music and Romanian folklore, which has rightly been hailed as one of the composer's best scores. Bălănescu Quartet's live performance will be accompanied by ethereal projections of Austrian Klaus Obermaier.
The Bălănescu Quartet are:
Alexander Balanescu - violin
James Shenton - violin
Katie Wilkinson - viola
Nick Holland – cello
Special Guest:
Steve Arguelles - drums
Maria Tănase was born on September 25, 1913 in Bucharest and was irresistibly drawn towards art, proving to be a versatile talent. She distinguished herself as an actress, operetta singer, music hall star but, most of all as folk singer. She made her debut in 1934, in Constantin Tănase's "Cărăbuş" Company as a music hall actress, but soon she started to dedicate most of her career to interpreting Romanian folk songs. Throughout her career she has toured Romania extensively and represented the country at the International Exhibition in Paris in 1937, as well as at the 1939 New York World's Fair (with Grigoraş Diniciu's Orchestra). In 1938 her voice was heard for the first time on the radio. In that year, she made her first recordings for the Romanian Radio Society, which contributed to her fame. Sadly, none of these early recordings survived. During World War II, together with other first hand Romanian cultural personalities such as George Enescu, George Vraca or Constantin Tănase, she was making stage tours singing in front of soldiers injured on the battlefield. After World War II, she performed in at the "Constantin Tănase" Satirical and Musical Theatre and she performed in several plays and films, at the same time touring extensively. In 1962 she founded "Taraful Gorjului" (The Gorj Folk Music Band) in Târgu Jiu, but one year later, on May 1, 1963, after a concert in Hunedoara, she was forced to cancel her tour and any other performances due to an incurable illness which resulted in her death a month and a half later, on June 22. She was buried at the Bellu Cemetery in Bucharest and hundreds of thousands of people lined the streets for her final journey.
Since its formation in 1987, the Bălănescu Quartet acquired a reputation as one of the leading contemporary music groups in the world today. Its guiding force has been the Romanian-born virtuoso violinist Alexander Bălănescu, who has lead the quartet across musical frontiers into new territory. This search to push the limits of the string quartet has revealed an ensemble with a sensibility nearer to a band, rather than a clasiical music group. From the collaboration with various composers, the quartet developed its unique writing and performing style. The quartet have played in locations as wildly contrasting as London's Southbank Centre and New York's Knitting Factory, they've opened the Pet Shop Boys concert at Wembley Arena and are constantly looking for venues in which to present their music in a new context.
Since more than two decades media-artist, director/choreographer and composer Klaus Obermaier creates innovative works in the area of performing arts, music, theatre and new media, highly acclaimed by critics and audience. His inter-media performances and artworks are shown at festivals and theatres throughout Europe, Asia, North and South America and Australia. He composed for ensembles like Kronos Quartet, German Chamber Philharmonics, Art Ensemble of Chicago, Bălănescu Quartet, among others.
When: 22 September 2013, 7pm
Where: LSO St Luke's, 161 Old Street, London EC1V 9NG
Tickets: £10; £15 or on Barbican Centre website or at the LSO St Luke's