BÉZNĂ Theatre's Illegalised, on UK Tour
30/04 - 24/05/2019 @ UK Tour: London, Leeds, Manchester, Bedford, Newcastle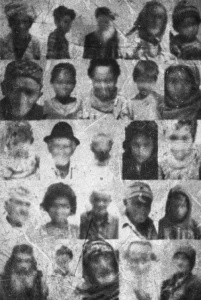 We join forces with a series of British partners to support the UK Tour of 'Illegalised', a new play by British-Romanian collective BÉZNĂ Theatre that will be presented, in world premiere, throughout the month of May.
ILLEGALISED is the first in BÉZNĂ Theatre's cycle of multi-lingual plays, a direct response to 'My Name is Other', a fully-funded research project in London, Bedford, Daventry and Sheffield that investigates othering, structural racism in the UK, and Britain's colonial past. The text is a response to the material gathered while interviewing 34 migrants, refugees and those seeking asylum as well as activists and academics in the field of racism, state violence and colonialism. The participants came from 4 continents, 29 countries and all economic backgrounds, most having fled poverty or political unrest.
BÉZNĂ Theatre is a British-Romanian interventionist political theatre collective formed in 2013. BÉZNĂ make political theatre that investigates societal inequalities and confronts institutional and normalised violences. BÉZNĂ is committed to interventionist activism through theatre in artistic and educational environments throughout Romania and the UK.
The Illegalised
Written and directed by: Sînziana Koenig & Nico Vaccari
With: Lizzie Clarke, Angel Carrousel, Theo Green and Oana Pușcatu
Associate Artists: Refugee artists A and U
Sound Designer: Dan Balfour
Set and costume design: Jacob Lucy
Lighting Designer: Stacey Sandford
Producer: Claire Gilbert
Image credit: Sabina Tudor
The tour is supported by the Northern Stage, Theatre Deli, Camden People's Theatre, Bookmarks, LMRN, AFRIL, Applecart Arts Theatre, Work Rights Centre and the Romanian Cultural Institute.
UK tour dates:
Tuesday 30 April - Thursday 2 May: Camden People's Theatre, London
Sunday 5 May: Slung Low, Leeds
Thursday 9 - Saturday 11 May: Royal Exchange, Manchester
Monday 20 May: The Place, Bedford
Thursday 16 - Saturday 18 May: Applecart Arts, London
Thursday 23 & Friday 24 May: Northern Stage, Newcastle