Award-winning Writer Paul Bailey Presents his Latest Incursion into the Realm of Sensuality and Desire
20/03/2014 @ ICR London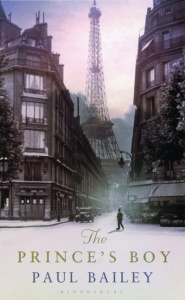 Join us for an evening of radiant conversation and exquisite prose with one of the most celebrated British authors. Paul Bailey, a great connoisseur of Romania, will launch his latest novel, 'The Prince's Boy', a consummate hymn to love's irresistible transcendence. The book centres upon the intricate relationship between two Romanians, Dinu and Razvan, indulging in the piquant decadence of interwar Paris. Paul Bailey's interlocutors are Romanian polygraph Marius Chivu, and Alexandra Pringle, Editor-in-Chief of Bloomsbury Publishing.
'The Prince's Boy', published by Bloomsbury, is the story of young Romanian scion Dinu Grigorescu who, sent to Paris by his wealthy father, embarks upon a life of bohemian adventures encouraged by his distant cousin, Eduard. At Bains du Ballon d'Alsace, a notorious establishment of debauchery, he meets Razvan, a fellow Romanian and adopted child of an aristocrat, who will initiate him in the ways of the world. A work of refined sensual delicacy and nostalgia, the novel proclaims the power of love to endure separation, time, and even death.
Paul Bailey, a great friend of Romania, which sometimes forms the source of inspiration for his prose, is an award-winning writer whose novels include 'At The Jerusalem', winner of a Somerset Maugham Award and an Arts Council Writers' Award; 'Peter Smart's Confessions' and 'Gabriel's Lament', both shortlisted for the Booker Prize for Fiction; 'Sugar Cane', a sequel to 'Gabriel's Lament', 'Kitty and Virgil' and, most recently, 'Uncle Rudolf'. He is the recipient of the E. M. Forster Award and the George Orwell Memorial Award, and has also written and presented features for radio.
Marius Chivu is a Romanian poet, literary critic, journalist and TV host, who has established himself as one of the most original voices in contemporary Romanian literature. Equally at ease in poetry, travelogue and cultural & literary criticism, he has been rewarded with important Romanian prizes. In 2003, Marius won the laurels at the 'Prometheus' Poetry Festival, a prestigious distinction. His first book, 'Vîntureasa de plastic' (2012), received the prize for best debut from the Romanian Writers Union and the influential magazine Observator Cultural. His travelogue 'Trei săptămâni în Himalaia' ('Three Weeks in the Himalayas'), also published in 2012, was a genuine literary coup and was followed by a popular exhibition, which revealed the author's photographic talent. Since 2005, Chivu has been running Dilemateca and Dilema Veche, two front line cultural magazines.
Where: Romanian Cultural Institute, 1 Belgrave Square, London SW1X 8PH
When: Thursday 20 March 2014, 7 pm (doors open at 6.30 pm)
Free entry, but please confirm your attendance at office@icr-london.co.uk.