Award-winning thriller 'Dogs' at the Romanian Cinematheque
25/09/2018 @ Romanian Cultural Institute, 1 Belgrave Square, SW1X8PH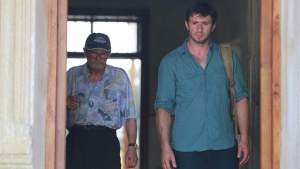 We are thrilled to resume our Cinematheque screenings this September with "Dogs", director Bogdan Miricã's debut feature. Internationally premiered at the Cannes Film Festival in 2016, where it won the FIPRESCI Award in the Un Certain Regard section, the film tells the story of Roman, a naïve outsider who returns to the land he has just inherited from his grandfather. Fully decided to sell this barren estate, he is warned that his grandfather was a local crime lord and his men will not let go of the land and their smuggling business without a fight.
Bogdan Mirică is an editor and writer, whose passion for cinema took him to the University of Westminster, London, where he studied screenwriting. In 2011, he wrote and directed his first short film, "Bora Bora", which won him several awards in Europe, being selected at numerous festivals, including those of Locarno, Warsaw and Thessaloniki.
"In a Cannes that has given us a lot of pleasures, but very few real surprises or revelations, Mirica's debut stands out, in a modest way, as both surprise and revelation—and certainly contributes to redrawing the map of Romanian cinema that we thought we knew so well." – Jonathan Romney
Directed by Bogdan Mirică
Produced by Marcela Ursu, Marcian Lazăr, Katya Trichkova, Elie Meirovitz
Screenplay by Bogdan Mirică
Starring: Dragoș Bucur, Gheorghe Visu, Vlad Ivanov, Costel Cașcaval
Running time: 1h 44 minutes
In Romanian with English subtitles
When: 25 September, 7 pm
Where: RCI London, 1 Belgrave Square
Admission is free and the seats are allocated on a first come, first served basis. Please confirm your attendance on Eventbrite.