Award-Winning Jazz Master Sorin Zlat in Concert at Kings Place
10/10/2016 @ Kings Place, 90 York Way, London, N1 9AG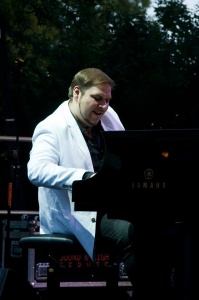 Romanian jazz pianist, classical clarinettist, composer, and arranger Sorin Zlat and his quartet will feature original jazz compositions inspired by the French poets Arthur Rimbaud and Paul Verlaine, and by the Chas & Goodall Playing Card Factory, a centre for technical innovation and artistic creativity, which in 1872 was situated right next door to the house where the poets lived in Royal College Street in Camden.
Distinguished by a strong urban vibe, this outstanding jazz show will use mainstream modern jazz to tell a story of creativity, and the immigrant experience of coming to London.
Sorin Zlat Quartet are: Sorin Zlat – piano, Mihaela Alexa – voice, Marco Quarantottom – drums, Michele Montolli – bass
With musical influences including Dizzy Gillespie, Miles Davis, Thelonious Monk, and John Coltrane, Sorin Zlat is one of Europe's most outstanding Jazz artists, guaranteed to delight. Submerge yourself in the cool urban grooves of amazing mainstream jazz, and celebrate the life and the creativity of the city, then and now, symbolised by luck and the hands we are dealt at cards.
When: Mon 10 October, 8pm
Where: Kings Place, 90 York Way, London N1 9AG
Tickets: £13.50 – £24.50. Book your tickets HERE