Author and translator Diana Manole, at the National Poetry Day Translation Summit
04/10/2018 @ University of London, Institute of Modern Languages Research, The Court Room, First Floor, Senate House, Malet Street, London WC1E 7HU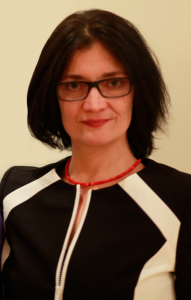 This year's National Poetry Day celebrations see Romanian writer, translator and scholar Diana Manole take part in the Translation Summit hosted by the University of London's Institute of Modern Languages Research. Entitled "The Future of Poetry Translation: Pathways and Practices", the conference brings together poets, translators, publishers and cultural managers, who will be discussing the future of poetry in translation.
In the second half of the day, Diana Manole, the recent winner of the 2nd Prize in the renowned John Dryden Translation Competition, joins Clare Pollard - Modern Poetry in Translation Editor, Erika Hesketh – CEO of Poetry Translation Centre, Bill Swainson - freelance editor and literary consultant, Tony Frazer – Editor and Publisher of Shearsman Books and Tony Ward – Arc Publications Director in discussing the importance of going beyond the page for literary publishers, from radical event programming to inventive digital publish.
The event is organised by the University of Roehampton and Newcastle University, and is run under the umbrella of the PoetTrio project, which looks at poet-to-poet collaborative translation. For the full conference programme please go HERE.
Diana Manole (PhD, University of Toronto) is a Romanian-Canadian writer, translator, and scholar. In her native Romania, she has published six collections of poems and four plays, won fourteen literary awards, including two prizes from the Romanian Writers' Union, and contributed to numerous national and international anthologies and magazines. A Pushcart prize nominee, her poetry in English has appeared in magazines in the UK, the US, South Africa, Canada, and Europe. Her sixth collection of poems, B&W, came out in a Romanian-English bilingual edition (Tracus Arte, 2015). Her poems have also been translated into and published in French, German, Polish, Spanish, Albanian, and Belarusian, while her translations of British and Canadian poetry have been featured in major Romanian magazines. She also translates Romanian poetry into English and is a member of the Literary Translators' Association of Canada. She was commissioned to translate Întoarce-te (Come Down) by Fiona Sampson by Tracus Arte (Bucharest, forthcoming in 2019). Most recently, Manole was awarded 2nd prize in the 2017-18 John Dryden Translation Competition by the British Comparative Literature Association and the British Centre for Literary Translation. She lives in Toronto and teaches courses in Drama, Performance, and Literature at Trent University.
National Poetry Day is an initiative of the Forward Arts Foundation, a charity that celebrates excellence in poetry and that brings together leading poetry, literacy and literary organisations around a shared purpose: promoting the enjoyment, discovery and sharing of poetry. National Poetry Day was founded in 1994 by William Sieghart and has engaged millions of people across the country reading, writing and listening to poetry.
When: Thursday 4 October 2018, 10am – 8pm
Where: University of London's Institute of Modern Languages Research, The Court Room, First Floor, Senate House, Malet Street, London WC1E 7HU
The event is free but tickets are limited. Please book your tickets HERE.