'Auspicious Absents. An architectural and biographical history of 1 Belgrave Square'
20/09 - 03/10/2014 @ RCI London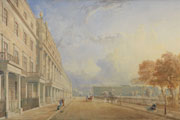 The exhibition 'Auspicious Absents. An architectural and biographical history of 1 Belgrave Square', which will open during the hugely popular Open House programme, is a celebration of our venerable home, one of the most prestigious addresses in Central London.
It examines the architectural features of the majestic, 180-year old building against the historical backdrop of Victorian Britain and through biographical information about the patrician families that owned it until the middle of the 1930s when it became the residence of the Romanian Legation in London.
A reverence to the dignified beauty of Belgravia and its timeless edifices, 'Auspicious Absents' is no less a homage to the great Romanian diplomats like Nicolae Titulescu, who was instrumental in acquiring the building, or Viorel Tilea, Marcu Beza and Brutus Coste, who served in 1 Belgrave Square in some of the most dangerous and faithful times for their country.
Curated by the Romanian Cultural Institute and architects Andreea Vasilcin and Radu Macovei with the support of Grosvenor and the Embassy of Romania in London.
When: 20 & 21 September 2014, 11am-5pm. Guided tours with curators: Sat & Sun at 11.30 and 12.30.
The exhibition will continue until 3 October 2014, Mon-Fri 9am-5pm.
Where: Romanian Cultural Institute, 1 Belgrave Square, London SW1X 8PH

Free entry.