Attic Arts Second Round Winners
06/10/2011 - 31/01/2012 @ ICR Londra, 1 Belgrave Square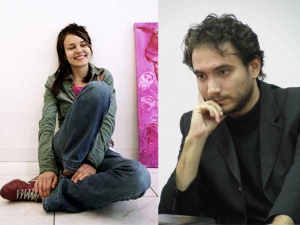 The winners of the second round of the Attic Arts 2011 residency programme are: artist Anca Benera and poet Claudiu Komartin.
The winners have been selected from a number of 24 applications, according to the following criteria, each marked with maximum five points:
- artistic quality relevant both for the ICR's and British institutions' standards;

- adherence to the ICR London programmes as well as to current approaches in the respective field in the UK;

- partnerships with UK individuals or organisations, with whom to develop the project;

- preparedness to present the project at the end of the residency or within, at most, one year of the residency completion, depending on the nature of the project;

- professional experience of the applicant;

- ability to comunicate fluently in English.



The results of the evaluation process. (PDF)
Anca Benera (b. 1977) lives and works in Bucharest; co-founder of the Centre for Visual Introspection Bucharest. Selected exhibitions include: Kunstforum Wien, Casino Luxembourg, Periferic5 Biennale Romania, Cooper Gallery, Dundee, Scotland, Bétonsalon-MuseumsQuartier Wien; National Museum of Contemporary Art (MNAC). Most of her works focus on the interrelation between painting, photography and the structure of memory. She also works with video and mixed-media installations.
During the residency she will develop a new project in collaboration with Camden Arts Centre.
Claudiu Komartin (b. 1983) is a poet, literary critic and translator. He has written three poetry collections to date, including Domestic Circus (2005) which won the prominent Romanian Academy Poetry Prize. Claudiu is also editor-in-chief of "Poesis International" and has translated poetry and prose from French, English and Italian. Appearing in several international anthologies, his poems are renowned for making 'a synthesis, both sarcastic and full of hope, of the Romanian contemporary society".
At the RCI London he will work on a poetry project in association with Poet in the City and poet Stephen Watts.
Where: Romanian Cultural Institute London.
When: October 2011 - February 2012.