At the Gates of the Orient: From Prince Dimitrie Cantemir to Anton Pann
27/11/2012 @ Institutul Cultural Român, 1 Belgrave Square, Londra, SW1X8PH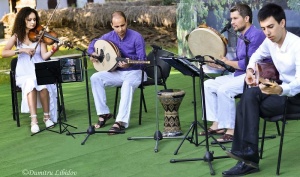 We are now fully booked for the Gates of the Orient concert and are unable to receive further confirmations.
Many thanks to all of you who reserved a place and we look forward to seeing you on the 27th!
The Romanian Cultural Institute and the Yunus Emre Institute in London are proud to present the premiere concert "From Prince Dimitrie Cantemir to Anton Pann", a unique performance skilfully combining Byzantine, Ottoman, Persian and Romanian scores composed by two of the most erudite personalities at the gates of the Orient. Anton Pann group - Constantin Răileanu, Alina Horez, Alexandru Stoica and Andrei Zamfir - brings to London the ancient sounds of the Orient, in an original staging impregnated by local flavour and the exotic touch of old instruments like the oud, the bağlama or the pipe.
The programme includes Prince Cantemir's compositions and the music of his time, followed by pieces sung a century later in the Romanian Principalities and Constantinople.
Dimitrie Cantemir (1673 - 1723), Prince of Moldavia, was a prolific man of letters – philosopher, historian, composer, musicologist, linguist, ethnographer, and geographer. He is considered one of the great humanists of Europe and the most important musical personality in the Near East in the 18th Century. He was the author of the first Romanian philosophical treaty, printed in Iaşi in 1698 and was the first scholar interested in ethnography and folklore. "The Book of Music", contains the first written system of Ottoman music and includes Moldavian folklore and 20 original compositions. Because of this work, Cantemir has gained an important place in the musical history of Turkey as founder of laic music and was awarded the title of Prince by Sultan Ahmed the 3rd, a protector of the arts.
Anton Pann (b. 1793-1797 - d. 1854) was an Ottoman-born Wallachian composer, musicologist, and Romanian-language poet, also noted for his activities as a printer, translator, and schoolteacher. Pann was an influential folklorist and collector of proverbs, as well as a lexicographer and textbook author. Pann published one of the oldest court music inspired by the Byzantine and Ottoman sounds, translated and composed in the tradition of Byzantine hymns, at the same time being a skilled lute and guitar player. Pann is considered the most important composer of the last Oriental period in the Romanian space, continuing the tradition of Cantemir.
When: Tuesday, 27 November 2012, 7pm
Where: Romanian Cultural Institute, London
Admission is free, but places are limited. Early booking is well recommended.
Please reserve your seats at T: 020 7752 0134, E: office@icr-london.co.uk.