"At One Time: The Legacy of GM Cantacuzino" extended until January 2013
17/10/2012 - 18/01/2013 @ Institutul Cultural Român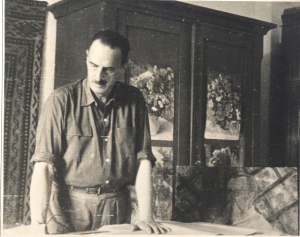 We are delighted to announce that the exhibition period has been extended until 18 January next year due to popular demand. Please continue to visit us for a poignant dialogue through art between the legendary Romanian architect and writer George Matei Cantacuzino (1899-1960), and his British-born granddaughter Ilinca Cantacuzino, in an unforgettable exhibition about love, legacy and inspiration.
"At One Time" includes oils, watercolours and drawings by G.M.Cantacuzino never exhibited until 2007, and works by Ilinca created in response to her grandfather's paintings and writings, aiming to re-introduce his work to a new generation of artists, architects, writers and readers in Europe.
Ilinca never met her grandfather. She says: "My works explore the power and function of memory and the many layers of interaction between artists through art. Through the process he became my muse. G.M. Cantacuzino has been forgotten by Romania in so many ways. The show is my contribution to helping Romania regain another part of its lost past".
G.M. Cantacuzino was an artist, architect, writer, thinker, and university professor of architecture and drawing; and he was born into a family tree which goes back a thousand years. The Communist regime imprisoned him from 1948 to 1953 and he was forbidden to leave Romania when released. His wife and children left Romania in '39 and were in England in '48, thus escaping incarceration. His son, Ilinca's father, is Serban Cantacuzino, a prominent London-based architect and writer and a board member of the Enescu Society in London, and founder member of Pro Patrimonio.
Ilinca Cantacuzino was born in London, studied English at Warwick University and painting at Camberwell College of Arts. She is a practising Budhist. Her work is process-lead and focuses on concepts of time, memory, and spirituality. Ilinca has work in international collections and in 2011 she completed the Dulwich Triptych for All Saints Church, West Dulwich, London SE21.
When: 17 October 2012 - 18 January 2013, Monday - Friday 10am - 5pm.
Closed from 17 Dec 2012 to 4 Jan 2013.
Where: Romanian Cultural Institute, 1 Belgrave Square, SW1X 8PH
Free entry.