Art Embodied: Romanian artists from the 80s
15/09 - 13/10/2011 @ Romanian Cultural Institute London, 1 Belgrave Square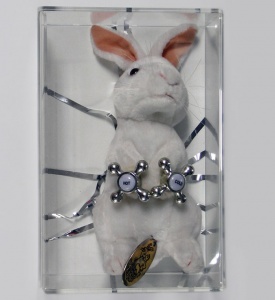 Curated by Petru Lucaci
Opening: Thursday 15 September, 6.30-8.30pm @ ICR London, 1 Belgrave Square
Come along and enjoy a rich array of painting, sculpture, film, photography and installation from a famous artistic generation that dared to affirm a new type of sensibility during the last years of a regime that asked for none.
Instead of the academic modernism from before, these young artists, who made their debut at the beginning of the darkest decade of the communist regime, brought a fresh and radical vision on reality, exploring new topics such as the banality of daily life, one's own biography, the physical and the social body, the impact of mass-media on individual imagination. Using the raw figurative of neo-expressionism (in painting and sculpture) and experimental visual techniques (in photography, installation, performance, film), the eighty-ist artists produced an unexpected and powerful image of the difficult reality in which they lived.
Art Embodied presents a collection of old and new works that reflects particularly on the body: the body as object, the body as subject in society, the body as metaphor, the body as prison of the soul or expression of freedom, will and power.
Featuring: Darie Dup, Teodor Graur, Ion Grigorescu, Petru Lucaci, Wanda Mihuleac, Valeriu Mladin, Christian Paraschiv, Mircea Roman, Marilena Preda Sânc, Aurel Vlad.
View artists' biographies (doc).
The exhibition is curated by Petru Lucaci, Associate Professor, National University of Arts, Bucharest; President of the National Union of Visual Artists, Romania; Director of Victoria Art Centre for Contemporary Cultural Production, Bucharest.
With the kind support of Mr Iosefin Florea of ROEXPORT UK for the transport of the artworks.
When: 15 September – 13 October. Open: Monday – Friday, 10am – 5pm.
Where: Romanian Cultural Institute, 1 Belgrave Square, London SW1X 8PH.
Free entry.