Architecture and Memory: 'GM Cantacuzino – a Hybrid Modernist'
12/06 - 29/08/2014 @ Romanian Cultural Institute, 1 Belgrave Square, London SW1X 8PH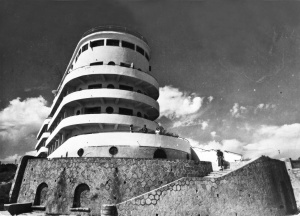 We are delighted to announce our fifth participation at the London Festival of Architecture (LFA), a cityscape of architectural experimentation and innovation, with an exhibition dedicated to one of the least known polymaths of the 20th century – George Matei Cantacuzino.
The first monographic travelling exhibition on a Romanian architect ever to be staged outside Romania, 'GM Cantacuzino – A Hybrid Modernist' is a tribute to Cantacuzino's extraordinary artistic legacy, offering a cross-section through his momentous life and work and presenting original books and paintings along with a tripartite chronological display of architectural works, quotations and contexts (black and white photographs).
The exhibition is curated and produced by the Romanian Cultural Institute in London, together with architects Dan Teodorovici and Şerban Cantacuzino.
G.M. Cantacuzino (1899-1960) was an artist, architect, writer, thinker, and university professor of architecture and drawing, born into a family tree which goes back a thousand years. He was born in Vienna to aristocratic parents, and was educated in Switzerland, Bucharest, and Paris. Back in Bucharest, he was to become the unchallenged integrative figure of the moderate Modernism in Romania; he remains to this day the most prolific architectural theorist of that country. He was also professor of architectural history and theory in Bucharest, painter and curator, the first Romanian correspondent of 'L´Architecture d´Aujourd´hui', chief-architect of the Romanian Railways, inspector of historical monuments, and much more. With his liberal political attitude being disapproved of by both fascists and communists, he experienced imprisonment, social exclusion and an untimely death, with no opportunity to see his wife and two children again, after they established themselves in England in 1939/40.
Dan Teodorovici is an architect and curator living in Stuttgart. His PhD thesis on G.M. Cantacuzino was received with Summa cum laude by the University of Stuttgart (2010). His monograph G.M. Cantacuzino – a Hybrid Modernist was recently published by Ernst Wasmuth Tübingen/Berlin, and it will be presented on the occasion.
The son of G.M. Cantacuzino, Şerban Cantacuzino, CBE, D Univ. (York) FSA MA FRIBA, is a prominent London-based architect and writer, a board member of the Enescu Society in London, and founder member of Pro Patrimonio.
When: Preview Thurs 12 June, 7-9 pm. The exhibition will be open until 29 August, Mon-Fri, 10 am – 5 pm
Where: Romanian Cultural Institute, 1 Belgrave Square, London SW1X 8PH
Free entry.