Arcadie Rusu performing at the opening of Big Dance Festival!
07/07/2012 @ Opera Holland Park, London W8 6LU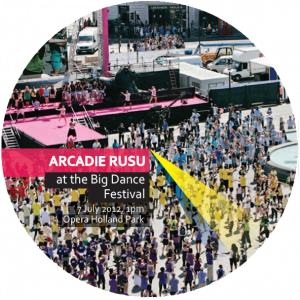 Choreographer and director Arcadie Rusu will perform his show ''Nosleep" at the launch of the Big Dance Festival 2012, at Saint Pancrass, on 5 July. Arcadie has also worked with the English National Ballet and the Opera Holland Park to stage a contemporary dance performance, entitled "Hunted Devotion", which will premiere at the Opera Holland Park on 7 July.
"One of the strongest human characteristics is curiosity. Curiosity can test one's devotion to someone or something. My new work uses Falstaff as a reference point and projects contexts in which our freedom of choice tests our devotion, sometimes even against our own universe", Arcadie Rusu explains.
Arcadie Rusu is based in Bucharest. His most recent projects are A Midsummer Night's Dream and Crazy Stories in the City at the Small Theatre, Bucharest and No Sleep at the National Centre of Dance in Bucharest. He also took part in the "A-Corps" Dance Festival in Poitiers, France; the Contemporary Dance Festival in Prague; and Cultural Coverage Festival in Chisinau, Republic of Moldova.
The Big Dance Festival is a major event of the Cultural Olympiad, encompassing famous, as well as unconventional London scenes, among which Sadler's Wells, Shioban Davies Studios and Trafalgar Square, boasting the presence of famous choreographers as Wayne McGregor, Kate Prince and Ben Duke.
Partners: Big Dance Festival, English National Ballet, Opera Holland Park, Big Dance
Part of the London 2012 Festival.
"Hunted Devotion", by Arcadie Rusu
Music: Alexander Bălănescu
Costumes: Dinu Bodiciu
Performers: Nuno Almeida, Christian Coe, Alessia Cutigni, Alice Gaspari, Chris Knight, Mattia Di Napoli
Tickets: www.festival.london2012.com | English National Ballet | www.operahollandpark.com