Apparatus 22 @ The Glasgow School of Art
25 - 28/10/2011 @ The Glasgow School of Art, 167 Renfrew Street, G3 6RQ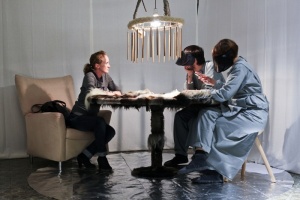 The Romanian art collective Apparatus 22 will provide the first international presence in the Wednesday Night Open Forum Events at the Glasgow School of Art, with support from the Romanian Cultural Institute London.
The group will present their last five years of projects, as add, liste noir, Rozalb de Mura and the shift they made to Apparatus 22. The event is part of the series of interdisciplinary programmes in the Mackintosh Lecture Theatre, which include talks, screenings and panel discussions on art, design and architecture. Apparatus 22 will also meet with Scottish designers and artists with the aim of collaborations for an exhibition in the Mackintosh Museum in 2012.
Apparatus 22 will be present on 26 October at 6pm in the Mackintosh Lecture Theatre, to talk to the public and and students in Glasgow.
Apparatus 22 is an art and fashion collective based in Bucharest, Romania, that was initiated in spring 2011 after a thorough reconfiguration process of the cutting-edge fashion label Rozalb de Mura (2006 – early 2011). Olah Gyarfas is a permanent guest of the collective. The group explore the crossovers between art, design and fashion, focusing on themes such as the critical potential of clothing and fashion, storytelling, blurring the lines between genders, mixing fiction with reality.
The Glasgow School of Art is one of Europe's leading higher education institutions for creative education and research. It is organised into three schools – Fine Art, Design and Architecture. GSA's distinctive, specialist practice-based education and exhibitions programme are internationally recognized.
Photos: Apparatus 22: Morpheus Buyback © steirischer herbst / silveri
When: 25 - 28 October
Where: The Glasgow School of Art, 167 Renfrew Street, G3 6RQ